Austin Peay Sports Information

Clarksville, TN – Everybody is back for Austin Peay State University track and field at this weekend's Georgia Tech Invitational. All 13 student-athletes who competed at the Georgia Invitational last weekend will be back in action this weekend at George C. Griffin Track in Atlanta, GA.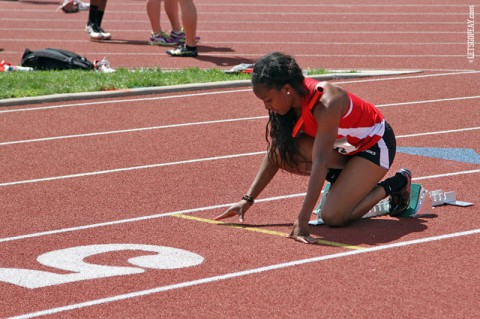 This will be the final weekend of competition for all athletes seeking qualifying marks for the NCAA Preliminary rounds, May 29th-31st in Jacksonville, Florida for the East region and Fayetteville, Arkansas in the West.
As such, Austin Peay will see athletes from schools such as Florida State, Central Florida, Clemson, BYU, Duke and Notre Dame, among other institutions, in Atlanta.
Freshman Kaylnn Pitts remains comfortably inside the field of 48 bound for North Florida in two weeks, ranking 39th in the triple jump and is five and a half inches ahead of the current preliminary qualifying number. She could be joined by Chancis Jones, whose 12.33m leap at last weekend's Georgia Invitational moved her up 35 spots in the rankings to 65th prior to this weekend's competition.
Sophomore Breigh Jones is more than likely in the field at 44th regionally but has a streak on the line she wants to defend in the Peach State. Jones is unbeaten in five outdoor 400m dash events this spring but will face 10 athletes currently ranked in the top-48 in the region in the event, including four ranked in the top 10: Clemson's Marlena Wesh (third), Miami's Shakima Wimbley (fifth), Notre Dame's Margaret Bamgbose (sixth) and UCF's Afia Charles (eighth).
After besting the school record each of her last two times out, senior Xiamar Hudson will need to put the mark out of reach to advance to the regional. While she stands with a 4:30.88 entering the weekend, at least a 4:22.69 will be needed to have a chance at making the field.
Athletes must have earned their qualifying marks by the end of Sunday, May 18th. The list of accepted student-athletes for regional competition will be announced Thursday, May 22nd.
Entering the Weekend

Name

Event

Time / Height / Distance

Place

Preliminary Qualifying mark (as of May 9)

Kaylnn Pitts

Triple Jump

12.63m

39th

12.49m

Breigh Jones

400m dash

54.08

44th

54.21

Jones, Davis, Adams, Ross

4x100m relay

45.28

49th

44.88

Chancis Jones

Triple Jump

12.33m

65th

12.49m

Amia Butler

Long Jump

5.96m

71st

6.04m

Brianna Kelly

High Jump

1.70m

78th

1.75m

Terri Morris

400m dash

54.87

81st

54.21

Myiah Johnson

100m hurdles

13.99

95th

13.69

Maikea Davis

200m dash

24.08

112th

23.67

Erika Adams

100m dash

11.81

116th

11.61

Jessica Gray

800m run

2:10.73

124th

2:07.77

Natalie Olberding

400m hurdles

1:02.05

129th

59.70

Chancis Jones

Long Jump

5.76m

136th

6.04m

Xiamar Hudson

1500m run

4:30.88

162nd

4:22.69

Kymmalett Ross

100m dash

12.00

202nd

11.61

Kymmalett Ross

200m dash

24.49

209th

23.67