APSU Sports Information

Auburn, AL – Carving out one of the greatest rounds in Austin Peay State University golf history, senior Marco Iten ran away with the NCAA Auburn Regional, Saturday, shooting a final-round 5-under 67 to claim a four-shot victory and earn an individual berth to next week's NCAA Golf Championship in Hutchinson, Kansas.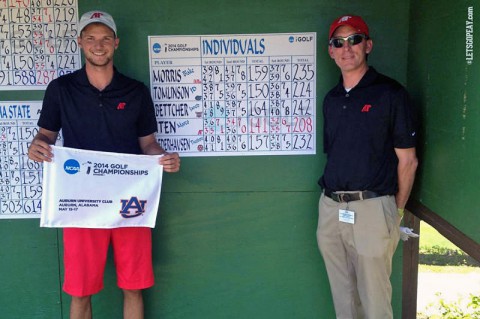 By claiming medalist honors with an 8-under 208, Iten will represent the Auburn Regional as the low individual not a member of the top five NCAA qualifying teams—Alabama won the regional, playing at the Auburn University Club, at 11-under 853, followed by Kennesaw State (975), host Auburn (878), Virginia Tech (882) and Texas (884).
Tourney play will begin Friday at the Prairie Dunes Country Club in Hutchinson.
With holes 1-9 serving as his back nine—No. 10 was the starting hole, Saturday, Iten broke away from a field with birdies on four of five holes beginning with No. 4 before a trio of consecutive birdies on Nos. 6-8. That birdie train left him four shots better than Alabama's Cory Whitsett and five ahead of New Mexico State's Klein Kotz, who shot a 66 to make a run for that individual spot.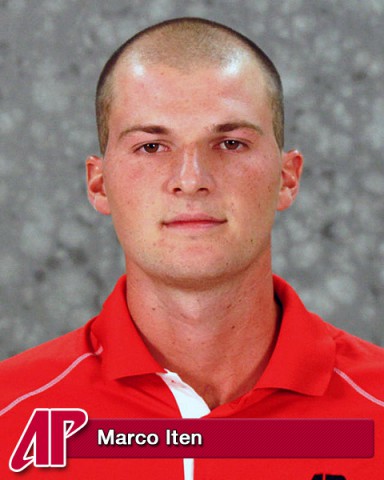 "I don't think it has quite set in yet," said Iten. "I talk about playing each shot as it comes and playing my game, but I never thought it would be good enough to win the regional. I thought if I put forth my best effort I thought I could contend for the individual spot, but not in a million years did I dream I would beat Alabama, Auburn, Texas and everyone else that was here. It feels awesome. I think once it sets in I will be able to appreciate it."
In fact, Iten outdistanced a field that included three top 10 golfers—Alabama's Robby Shelton is No. 1—along with Texas' Beau Hossler, who led the 2012 U.S. Open midway through the second round.
"When you think about the fact he shot a 67 on the final round of the NCAA Regional with the No. 1 team in the nation here—that is pretty awesome," APSU coach Kirk Kayden. "Just a phenomenal performance by Marco against an outstanding field. Two guys (Dustin Korte advanced a year ago) two years in a row making the national finals—that is something special. I don't really think people realize how difficult that really is to do."
"In golf it comes down to everybody has to play the course," Iten said. "I don't have to actually take on any one of those guys. It is unbelievable for me. I had everything going for me, I was feeling well. When I needed a break it all came together at the right time."
After opening with a par on No. 10, Iten collected birdies on Nos. 11 and 12.
"I came out hitting the ball the way I wanted," Iten said. "On the second hole, I stuck it close on the and made birdie) and then with a short par 5 coming up I am 2-under after three. It gave me a real confidence and it settled me down pretty well as I really wasn't sure how soon I was going to be able to do that."
On the par-5 No. 16 it looked like Iten was going to give back at least one of those shots. He hit in the water. But his misfortune turned to fortune just moments later.
"I got a little lucky on 16," he said. "After hitting it in the water I was able to pitch it in (for a birdie) from about 30 yards out, leaving me 3-under through seven."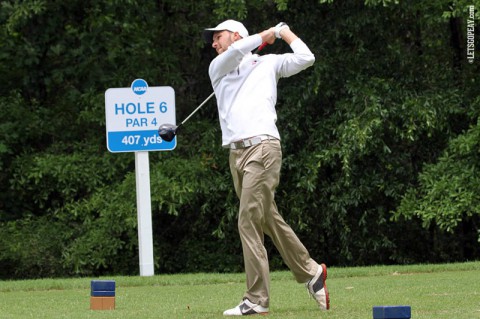 That was the first time Iten held sole possession of the tourney lead. But back-to-back bogeys on Nos. 17—Iten said he chose the wrong club—and 18, pushed Iten back to one-under and second-place overall.
"I was feeling a little anxious because I was back to 1-under," Iten said. "I was feeling the nerves over the next couple of holes—I was kind of battling that. But once the next birdie went in (No. 4) I was back to having the confidence I had before."
The three straight birdies clinched Iten's fourth spring medalist honor and second straight, capping an almost unprecedented Govs spring that also saw him claim honors at the Talis Park Challenge, Old Waverly Intercollegiate and Ohio Valley Conference championship. It is APSU's first golf region championship—team or individual—in history.
"Marco made lot of good putts, a lot of good par putts," Iten said. "After letting it get away from him for a couple of holes (Nos. 17 and 18), he pulled it back together and just pulled away on the back nine, making some really good 12-15 foot birdie putts.
"With Dustin (Korte's) 64 last year in the first round at (Tempe) Regional and today's round by Marco—those are probably two best round anyone has ever played for me. We are so proud of him—a terrific performance all week long."
Iten's group was the last to finish, Saturday. His coach along with a few friends and some Golf Govs teammates were able to relish what they were observing at he walked up No. 9, even if the Niederglatt, Switzerland native could not.
"I walked up to Marco on the green after the last hole and told him he won," Kayden said. "He looked at me and said 'I did?' He was so focused on the golf course that he didn't realize what the situation was. But that focus on one shot at a time is why he was able to do what he did this weekend."
Box Score
NCAA Auburn Regional
Auburn, AL | Auburn University Club
May 15th – May 17th
| | | | | | | | |
| --- | --- | --- | --- | --- | --- | --- | --- |
| Finish | Player | Team | Round 1 | Round 2 | Round 3 | Totals | |
| 1 | Marco Iten | Austin Peay | 71 | 70 | 67 | 208 | -8 |
| 2 | Cory Whitsett | Alabama | 71 | 69 | 72 | 212 | -4 |
| T 3 | Scott Wincent | Virginia Tech | 73 | 70 | 70 | 213 | -3 |
| T 3 | Klein Klotz | Sam Houston State | 76 | 71 | 66 | 213 | -3 |
| T 3 | Tom Lovelady | Alabama | 72 | 71 | 70 | 213 | -3 |
| 6 | Beau Hossier | Texas | 71 | 71 | 72 | 214 | -2 |
| T 7 | Trey Mullinax | Alabama | 71 | 73 | 71 | 215 | -1 |
| T 7 | Robin Sciot-Siegrist | Louisville | 69 | 76 | 70 | 215 | -1 |
| T 7 | Luke Vivolo | UC Davis | 71 | 75 | 69 | 215 | -1 |
| T 7 | Niclas Carlsson | Auburn | 70 | 72 | 73 | 215 | -1 |
| | | | | | | | |