Clemson, SC – Austin Peay State University's volleyball team had few answers for a hot hitting Clemson squad, falling in three sets (25-10, 25-13, 25-16), in its second match of the Big Orange Bash, Friday.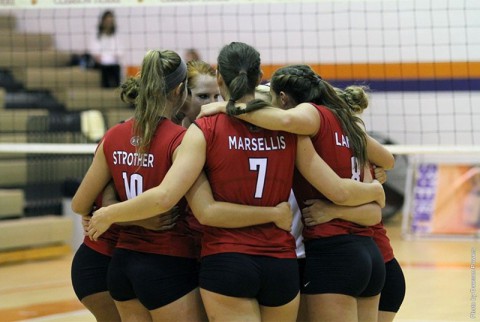 Austin Peay (0-2) could not get on track offensively, recording just 21 kills while committing 25 errors in the match.
Senior Jada Stotts led the Lady Govs with eight kills. Senior Hillary Plybon finished with six kills and a team-best .188 attack percentage.
The Clemson (2-0) defense played a part in Austin Peay's offensive woes, posting 10 blocks in the match.
Beta Dumancic led the Tigers with six blocks and was one of six players to record a block. Offensively, Kristin Faust had 14 of Clemson's 38 kills. The Tigers posted a .372 attack percentage for the match.
"Our hitters couldn't get going against Clemson," said Lady Govs head coach Taylor Mott. "Clemson did a good job defensively and overpowered us offensively. We have one more chance to come home with a win and I expect we'll step up to the challenge."
Austin Peay concludes its stay in South Carolina with a 2:00pm (CT), Saturday contest against USC Upstate.
Box Score
Austin Peay 0 vs Clemson 3
| Set Scores | | 1 | 2 | 3 | Team Records |
| --- | --- | --- | --- | --- | --- |
| Clemson | (3) | 25 | 25 | 25 | 2-0 |
| Austin Peay | (0) | 10 | 13 | 16 | 0-2 |
Austin Peay (0-2)
| ## | Player | SP | K | E | TA | PCT | A | E | SA | SE | RE | DIG | BS | BA | Pts |
| --- | --- | --- | --- | --- | --- | --- | --- | --- | --- | --- | --- | --- | --- | --- | --- |
| 1 | FIELDS, Cami | 3 | 0 | 0 | 0 | .000 | 10 | 0 | 0 | 0 | 0 | 1 | 0 | 0 | 0.0 |
| 3 | ADAMS, April | 2 | 0 | 0 | 0 | .000 | 1 | 0 | 0 | 0 | 0 | 6 | 0 | 0 | 0.0 |
| 4 | EBRIGHT, Sammie | 3 | 4 | 5 | 11 | -.091 | 0 | 0 | 0 | 0 | 0 | 0 | 0 | 0 | 4.0 |
| 7 | MARSELLIS, Aubrey | 3 | 1 | 3 | 9 | -.222 | 8 | 0 | 1 | 0 | 0 | 3 | 0 | 0 | 2.0 |
| 8 | LANDON, Liz | 3 | 1 | 5 | 9 | -.444 | 1 | 0 | 0 | 1 | 0 | 1 | 0 | 0 | 1.0 |
| 10 | STROTHER, Samantha | 3 | 1 | 3 | 9 | -.222 | 0 | 0 | 0 | 0 | 0 | 2 | 0 | 0 | 1.0 |
| 11 | WHITE, Christina | 3 | 0 | 0 | 2 | .000 | 0 | 0 | 1 | 1 | 3 | 6 | 0 | 0 | 1.0 |
| 13 | LITCHFIELD, Syd | 1 | 0 | 0 | 0 | .000 | 0 | 0 | 0 | 0 | 2 | 1 | 0 | 0 | 0.0 |
| 14 | STOTTS, Jada | 3 | 8 | 6 | 33 | .061 | 1 | 0 | 0 | 1 | 0 | 4 | 0 | 0 | 8.0 |
| 15 | PLYBON, Hillary | 3 | 6 | 3 | 16 | .188 | 0 | 0 | 0 | 0 | 0 | 1 | 0 | 0 | 6.0 |
| TM | TEAM | 2 | 0 | 0 | 0 | .000 | 0 | 0 | 0 | 0 | 2 | 0 | 0 | 0 | 0.0 |
| | Totals | 29 | 21 | 25 | 89 | -.045 | 21 | 0 | 2 | 3 | 7 | 25 | 0 | 0 | 23.0 |
Team Attack By Set
Set
K
E
TA
Pct
1
4
7
21
-.143
2
9
9
32
.000
3
8
9
36
-.028
Total Team Blocks: 0.0 LEADERS:
Kills-Aces-Blocks: STOTTS, Jada (8-0-0); PLYBON, Hillary (6-0-0); EBRIGHT, Sammie (4-0-0); MARSELLIS, Aubrey (1-1-0); LANDON, Liz (1-0-0); STROTHER, Samantha (1-0-0)
Assists: FIELDS, Cami (10); MARSELLIS, Aubrey (8); ADAMS, April (1); LANDON, Liz (1); STOTTS, Jada (1)
Digs: ADAMS, April (6); WHITE, Christina (6); STOTTS, Jada (4); MARSELLIS, Aubrey (3); STROTHER, Samantha (2); FIELDS, Cami (1); LANDON, Liz (1); LITCHFIELD, Syd (1); PLYBON, Hillary (1)
Clemson (2-0)
| ## | Player | SP | K | E | TA | PCT | A | E | SA | SE | RE | DIG | BS | BA | Pts |
| --- | --- | --- | --- | --- | --- | --- | --- | --- | --- | --- | --- | --- | --- | --- | --- |
| 2 | Irem Bayramoglu | 3 | 0 | 1 | 3 | -.333 | 0 | 0 | 0 | 1 | 0 | 3 | 0 | 0 | 0.0 |
| 4 | Lou Davis | 3 | 0 | 0 | 0 | .000 | 1 | 0 | 2 | 1 | 1 | 5 | 0 | 0 | 2.0 |
| 6 | Leah Perri | 3 | 7 | 0 | 13 | .538 | 0 | 0 | 0 | 0 | 0 | 0 | 0 | 1 | 7.5 |
| 7 | Niki Collier | 3 | 0 | 0 | 0 | .000 | 1 | 0 | 2 | 0 | 1 | 6 | 0 | 0 | 2.0 |
| 8 | Karis Watson | 3 | 6 | 0 | 9 | .667 | 0 | 0 | 0 | 0 | 0 | 1 | 2 | 2 | 9.0 |
| 10 | Haleigh Hampton | 3 | 4 | 0 | 8 | .500 | 1 | 0 | 0 | 0 | 0 | 2 | 0 | 1 | 4.5 |
| 11 | Beta Dumancic | 3 | 4 | 1 | 9 | .333 | 0 | 0 | 1 | 1 | 0 | 5 | 2 | 4 | 9.0 |
| 12 | Kristin Faust | 3 | 14 | 6 | 29 | .276 | 0 | 0 | 2 | 0 | 0 | 5 | 0 | 3 | 17.5 |
| 13 | Sydney Moseley | 1 | 0 | 0 | 1 | .000 | 0 | 0 | 0 | 0 | 0 | 1 | 0 | 0 | 0.0 |
| 17 | Kate Federico | 3 | 3 | 1 | 6 | .333 | 29 | 0 | 0 | 3 | 0 | 6 | 0 | 1 | 3.5 |
| | Totals | 28 | 38 | 9 | 78 | .372 | 32 | 0 | 7 | 6 | 2 | 34 | 4 | 12 | 55.0 |
Team Attack By Set
Set
K
E
TA
Pct
1
14
2
24
.500
2
11
2
23
.391
3
13
5
31
.258
Total Team Blocks: 10.0 LEADERS:
Kills-Aces-Blocks: Kristin Faust (14-2-3); Leah Perri (7-0-1); Karis Watson (6-0-4); Haleigh Hampton (4-0-1); Beta Dumancic (4-1-6); Kate Federico (3-0-1)
Assists: Kate Federico (29); Lou Davis (1); Niki Collier (1); Haleigh Hampton (1)
Digs: Niki Collier (6); Kate Federico (6); Lou Davis (5); Beta Dumancic (5); Kristin Faust (5); Irem Bayramoglu (3); Haleigh Hampton (2); Karis Watson (1); Sydney Moseley (1)