Clarksville, TN – Clarksville Police Detectives with District 3 Criminal Investigations have been working a theft from one of our local storage unit facilities involving an extremely large amount of property.
This investigation lead to them being able to obtain a Search Warrant for 523 Kellia Drive. The search warrant was executed at 3:00pm today, August 29th, 2014 and the Detectives spent the first two hours recovering property outside the residence.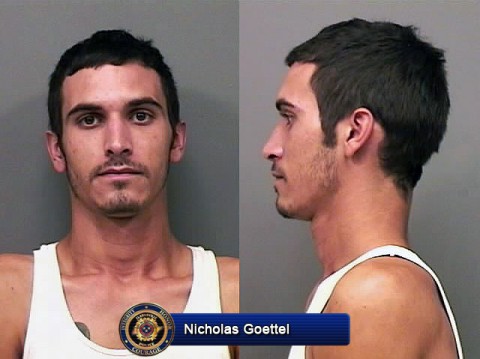 At 5:15pm the Detectives went inside the residence and found a Meth Lab. None of our Detectives were injured and backed out immediately.
The 19th Judicial Task Force and the Clarksville Fire Rescue were notified to deal with the Lab.
Nicholas Goettel has been booked into the Montgomery County Jail for Theft. Charges for the Meth Lab are pending.
Nicholas Goettel
Name: Nicholas Goettel
Date of Birth: 9/ 30/ 91
Gender: M
Race: W
Address: 526 Kellia Drive, Clarksville, TN
Arresting Officer: Rodney Lifsey
Charged With: Theft of Property
Booked Into: Montgomery County Jail
Bond: $20,000