Austin Peay Sports Information Office

Clarksville, TN – Southeastern Conference foe Alabama proved too much for Austin Peay State University women's soccer team to overcome, Friday, with the Lady Govs dropping a 5-0 decision at Morgan Brothers Field.
With the loss, Austin Peay drops to 1-2-0 on the young season. Alabama improves to 2-1-0.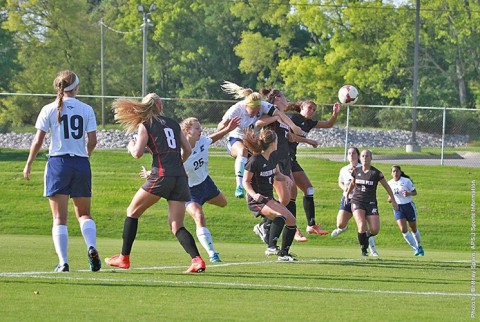 The Crimson Tide were relentless offensively, hounding the Lady Govs with 24 shots. Austin Peay was held without a shot in the first half and did not attempt their first until 30 minutes remained in the contest.
Austin Peay limited Alabama for the first 15 minutes of the contest, but surrendered four goals over the next nine minutes. Merel van Dongen got the scoring started in the 18th minute, and was followed by Laura Lee Smith less than two minutes later.
Theresa Diederich (21st minute) and Hailey Brohaugh (24th) would add to Austin Peay's deficit. Alabama continually got bodies forward, resulting in multiple chances in the box against the Lady Govs defense, including Brohaugh's goal off a deflection.
Pia Rijsdijk put up the half's fifth goal with under a minute left, corralling a loose ball in the box and sliding it past a diving Nikki Filippone, who was forced to make seven saves in the first half alone.
The Lady Govs settled down in the second half, limiting the Crimson Tide to seven shots. Coming on to start the second half, sophomore Katie Emig made three saves and held Alabama scoreless.
Austin Peay strung together several opportunities but were thwarted time and again by Alabama during the final 45 minutes. Freshman Mallory Burman lifted a shot wide in the 61st minute, the only attempt by Austin Peay on the evening.
"We struggled to get forward tonight," said head coach Kelley Guth. "I thought we defended well in the second half and our possession was much better. We just couldn't find that final pass in a number of situations."
The Lady Govs return to action Monday with a 7:00pm kick against Lipscomb. That will be the finale of Austin Peay's three-match homestand before the Lady Govs travel to Murfreesboro for next weekend's Blue Raider Classic against Kennesaw State (4:00pm, Friday) and Middle Tennessee (5:00pm, Sunday).
Box Score
Austin Peay (1-2-0) vs Alabama (2-1-0)
| Goals By Period | 1 | 2 | Total |
| --- | --- | --- | --- |
| Alabama | 5 | 0 | 5 |
| Austin Peay | 0 | 0 | 0 |
| Goal | Time | Team | Goal Scorer | Assists | Description |
| --- | --- | --- | --- | --- | --- |
| 1. | 17:00 | UA | Merel van Dongen (0) | Lacey Clarida | GOAL by UA Merel van Dongen (FIRST GOAL), Assist by Lacey Clarida, goal number 0 for season. |
| 2. | 18:47 | UA | Laura Lee Smith (0) | Merel van Dongen | GOAL by UA Laura Lee Smith, Assist by Merel van Dongen, goal number 0 for season. |
| 3. | 20:35 | UA | Theresa Diederich (0) | Abby Lutzenkirchen | GOAL by UA Theresa Diederich, Assist by Abby Lutzenkirchen, goal number 0 for season. |
| 4. | 23:38 | UA | Hailey Brohaugh (0) | Molly Moroney | |
| 5. | 44:06 | UA | Pia Rijsdijk (0) | | GOAL by UA Pia Rijsdijk, goal number 0 for season. |
Alabama
| ## | Goalie | Minutes | GA | Saves |
| --- | --- | --- | --- | --- |
| 55 | Emily Rusk | 90:00 | 0 | 0 |
Pos
##
Player
Sh
SOG
G
A
Fouls
3
Jordan Meier
0
0
0
0
0
4
Maruschka Waldus
0
0
0
0
0
16
Laura Lee Smith
4
3
1
0
0
19
Auburn Mercer
1
0
0
0
0
20
Ally Ocon
2
2
0
0
0
23
Merel van Dongen
2
1
1
1
0
24
Caroline Alexander
0
0
0
0
0
43
Abby Lutzenkirchen
2
1
0
1
0
44
Theresa Diederich
1
1
1
0
0
55
Emily Rusk
0
0
0
0
0
88
Lacey Clarida
3
3
0
1
0
–Substitutes–
TM
TEAM
0
0
0
0
6
2
Molly Moroney
1
1
0
1
0
5
Alex Price
0
0
0
0
0
6
Annalika Steyn
1
0
0
0
0
9
Pia Rijsdijk
1
1
1
0
0
11
Moira Petrie
2
1
0
0
0
13
Noelle Sanz
0
0
0
0
0
14
Lauren Collins
0
0
0
0
0
15
Hailey Brohaugh
2
1
1
0
0
21
Alexis Mouton
1
0
0
0
0
22
Kaylee Semelsberger
0
0
0
0
0
45
Maddy Anzelc
1
0
0
0
0
Totals
24
15
5
4
6
Austin Peay
Referee: Paul Terry; Asst. Referee: Ricardo Hernandez, John Rufli; Alt. Official: ; Timekeeper: Taylor Vanders; Scorer: John Lange;
| | | | | |
| --- | --- | --- | --- | --- |
| APSU | 9 | Brianna Avitabile | YELLOW | 31:16 |
| APSU | 23 | Merritt Monger | YELLOW | 39:47 |