Clemson, SC – Senior Jada Stotts posted a season-best 16 kills but it wasn't enough as Austin Peay State University's volleyball team was swept in three sets by USC Upstate (25-15, 28-26, 25-21), Saturday, to conclude its stay at the Big Orange Bash.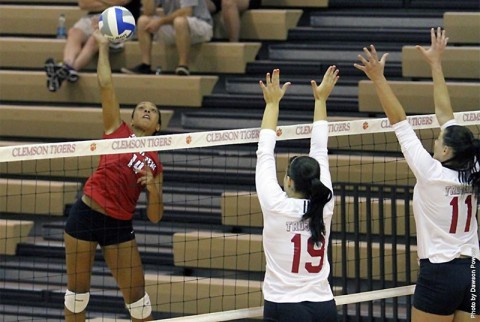 In the opening set, a spate of four ties and three lead changes would come in the first 10 points. USC Upstate (2-1) then used a 12-3 run to break a 5-5 tie en route to a 25-14 win. The second set was a closer affair with 15 ties and six lead changes.
Austin Peay (0-3) would battle back in the second frame and used a five-point run to build a 10-5 lead. USC Upstate slowly worked back into the set, tying the frame at 14-14. From there, neither team would gain more than a two-point advantage.
The Spartans gained the first set point at 24-23, but Stotts would score back-to-back kills to keep the set alive and give APSU its first set point. Upstate would fight off that set point and the teams battled through four points until Lexi Gober posted back-to-back kills to win the set.
Austin Peay would commit 14 attack errors in the third set, derailing its opportunity to extend the match. The Lady Govs led 14-12 after a four-point run that was assisted by a pair of Spartans errors. However, USC Upstate used an 8-4 run to take a 20-18 lead, which included four APSU attack errors, it would not relinquish.
"Once again we committed to many errors to ever find a rhythm," said Lady Govs head coach Taylor Mott. "We had leads in the last two set but we were our own worst enemy and couldn't extend our leads."
Stotts 16-kill performance was nearly half of Austin Peay's 37-kill outing. The Lady Govs offense was charged with 30 attack errors and settled for a .100 attack percentage.
USC Upstate needed 36 kills to record the win. Kayla Eversgerd led the Spartans with eight kills.
Austin Peay will have a quick turnaround, with two days to prepare before traveling to Evansville for a 7:00pm, Tuesday contest.
Box Score
USC Upstate 3 vs Austin Peay 0
| Set Scores | | 1 | 2 | 3 | Team Records |
| --- | --- | --- | --- | --- | --- |
| Austin Peay | (0) | 15 | 26 | 21 | 0-3 |
| USC Upstate | (3) | 25 | 28 | 25 | 2-2 |
USC Upstate (2-2)
| ## | Player | SP | K | E | TA | PCT | A | E | SA | SE | RE | DIG | BS | BA | Pts |
| --- | --- | --- | --- | --- | --- | --- | --- | --- | --- | --- | --- | --- | --- | --- | --- |
| 2 | GOBER, Lexi | 3 | 3 | 0 | 6 | .500 | 27 | 0 | 2 | 1 | 0 | 9 | 1 | 0 | 6.0 |
| 4 | MCAVOY, Kayla | 3 | 7 | 1 | 18 | .333 | 0 | 0 | 0 | 3 | 0 | 0 | 0 | 0 | 7.0 |
| 7 | LAGALY, Alexa | 3 | 7 | 2 | 24 | .208 | 0 | 0 | 0 | 0 | 0 | 2 | 0 | 0 | 7.0 |
| 8 | WEISS, Shannon | 3 | 7 | 1 | 24 | .250 | 3 | 0 | 2 | 5 | 0 | 5 | 0 | 0 | 9.0 |
| 13 | EVERSGERD, Kayla | 3 | 8 | 4 | 29 | .138 | 0 | 0 | 0 | 0 | 1 | 8 | 1 | 0 | 9.0 |
| 14 | KOELLING, Emily | 3 | 4 | 2 | 14 | .143 | 0 | 0 | 0 | 0 | 0 | 1 | 0 | 0 | 4.0 |
| 1 | KELLEY, Kaleigh | 3 | 0 | 0 | 1 | .000 | 4 | 0 | 0 | 0 | 2 | 13 | 0 | 0 | 0.0 |
| 6 | ARNOLD, Dominique | 1 | 0 | 0 | 0 | .000 | 0 | 0 | 0 | 0 | 0 | 0 | 0 | 0 | 0.0 |
| 10 | SHEARER, Rebecca | 3 | 0 | 0 | 0 | .000 | 1 | 0 | 0 | 0 | 0 | 5 | 0 | 0 | 0.0 |
| TM | TEAM | 1 | 0 | 0 | 0 | .000 | 0 | 0 | 0 | 0 | 0 | 0 | 0 | 0 | 0.0 |
| | Totals | 26 | 36 | 10 | 116 | .224 | 35 | 0 | 4 | 9 | 3 | 43 | 2 | 0 | 42.0 |
Team Attack By Set
Set
K
E
TA
Pct
1
14
3
34
.324
2
16
3
52
.250
3
6
4
30
.067
Total Team Blocks: 2.0
LEADERS:

Kills-Aces-Blocks: EVERSGERD, Kayla (8-0-1); MCAVOY, Kayla (7-0-0); LAGALY, Alexa (7-0-0); WEISS, Shannon (7-2-0); KOELLING, Emily (4-0-0); GOBER, Lexi (3-2-1)
Assists: GOBER, Lexi (27); KELLEY, Kaleigh (4); WEISS, Shannon (3); SHEARER, Rebecca (1)
Digs: KELLEY, Kaleigh (13); GOBER, Lexi (9); EVERSGERD, Kayla (8); WEISS, Shannon (5); SHEARER, Rebecca (5); LAGALY, Alexa (2); KOELLING, Emily (1)
Austin Peay (0-3)
| ## | Player | SP | K | E | TA | PCT | A | E | SA | SE | RE | DIG | BS | BA | Pts |
| --- | --- | --- | --- | --- | --- | --- | --- | --- | --- | --- | --- | --- | --- | --- | --- |
| 1 | FIELDS, Cami | 3 | 1 | 2 | 5 | -.200 | 26 | 0 | 0 | 1 | 0 | 9 | 0 | 0 | 1.0 |
| 7 | MARSELLIS, Aubrey | 3 | 4 | 4 | 12 | .000 | 5 | 0 | 0 | 0 | 0 | 1 | 0 | 0 | 4.0 |
| 8 | LANDON, Liz | 3 | 1 | 5 | 11 | -.364 | 2 | 0 | 0 | 0 | 0 | 4 | 0 | 1 | 1.5 |
| 11 | WHITE, Christina | 3 | 5 | 5 | 18 | .000 | 0 | 0 | 0 | 4 | 1 | 10 | 0 | 1 | 5.5 |
| 14 | STOTTS, Jada | 3 | 16 | 8 | 36 | .222 | 1 | 0 | 3 | 0 | 1 | 15 | 0 | 1 | 19.5 |
| 15 | PLYBON, Hillary | 3 | 6 | 2 | 15 | .267 | 1 | 0 | 0 | 1 | 0 | 4 | 0 | 1 | 6.5 |
| 3 | ADAMS, April | 3 | 1 | 0 | 1 | 1.000 | 1 | 0 | 0 | 0 | 1 | 11 | 0 | 0 | 1.0 |
| 4 | EBRIGHT, Sammie | 1 | 0 | 3 | 3 | -1.000 | 0 | 0 | 0 | 0 | 0 | 0 | 0 | 0 | 0.0 |
| 5 | BALES, Lizzy | 2 | 0 | 0 | 0 | .000 | 0 | 0 | 1 | 0 | 0 | 5 | 0 | 0 | 1.0 |
| 6 | SLAY, Ashley | 1 | 0 | 0 | 0 | .000 | 0 | 0 | 0 | 0 | 0 | 0 | 0 | 0 | 0.0 |
| 10 | STROTHER, Samantha | 2 | 3 | 1 | 11 | .182 | 0 | 0 | 0 | 0 | 0 | 0 | 0 | 0 | 3.0 |
| TM | TEAM | 1 | 0 | 0 | 0 | .000 | 0 | 0 | 0 | 0 | 1 | 0 | 0 | 0 | 0.0 |
| | Totals | 28 | 37 | 30 | 112 | .063 | 36 | 0 | 4 | 6 | 4 | 59 | 0 | 4 | 43.0 |
Team Attack By Set
Set
K
E
TA
Pct
1
10
7
30
.100
2
17
9
46
.174
3
10
14
36
-.111
Total Team Blocks: 2.0
LEADERS:

Kills-Aces-Blocks: STOTTS, Jada (16-3-1); PLYBON, Hillary (6-0-1); WHITE, Christina (5-0-1); MARSELLIS, Aubrey (4-0-0); STROTHER, Samantha (3-0-0); FIELDS, Cami (1-0-0); LANDON, Liz (1-0-1); ADAMS, April (1-0-0)
Assists: FIELDS, Cami (26); MARSELLIS, Aubrey (5); LANDON, Liz (2); STOTTS, Jada (1); PLYBON, Hillary (1); ADAMS, April (1)
Digs: STOTTS, Jada (15); ADAMS, April (11); WHITE, Christina (10); FIELDS, Cami (9); BALES, Lizzy (5); LANDON, Liz (4); PLYBON, Hillary (4); MARSELLIS, Aubrey (1)