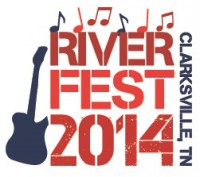 Clarksville, TN – Clarksville's Riverfest Festival is in need of volunteers for the Adventure Zone this weekend. If you have the time please, volunteer for one or more of more of the following shifts at the festival.
Time slots: 9:45am–1:00pm; 12:45pm–4:00pm; and 3:45pm–7:00pm.
This area is located behind the O'Charley's in Clarksville on Riverside Drive.
When you arrive you will check in at the Information Booth and then be shown to your station for the shift.
Please consider giving a bit of your time to assist this event and help make Riverfest great.
For more details on volunteering at Riverfest 2014, please contact the Clarksville Parks and Recreation at 931.645.7476 or visit www.cityofclarksville.com/riverfest
If you are able and available to help, email Matthew E. Nixon at
About Riverfest
The City of Clarksville's 27th Annual Riverfest Celebration is a two-day music and arts festival that takes place September 5th and 6th, 2014 alongside the Cumberland River at McGregor Park.
This free event features delicious food, activities for kids of all ages including Toddler Town and the Adventure Zone. Riverfest features multiple stages of live entertainment from some of Clarksville's most talented musicians as well as Saturday night's headliner, National recording Artist Tracy Lawrence.
Everyone's favorite, the Riverfest Regatta, is back again this year to see who will claim the title of the fastest boat built out of cardboard, duct tape and silicone. The Riverfest Art Exhibit kicks off on Thursday night this year with the Downtown Art Walk and includes three different categories of art from local talent that you won't want to miss.
New this year is the Riverfest Film Festival, a chance for both novice and expert film makers to showcase their talents on the big screen using predetermined lines and props in their seven minute movies.
For more information on all of these great events and more, visit www.clarksvilleriverfest.com