Clarksville, TN – On Friday, September 5th, 2014, the Clarksville Police Department hosted a retirement and promotion ceremony.
Chief Al Ansley presented Mary Buck with a Certificate of Retirement and Officer Nelson Rodriguez with a Promotion Certificate to the rank of Sergeant.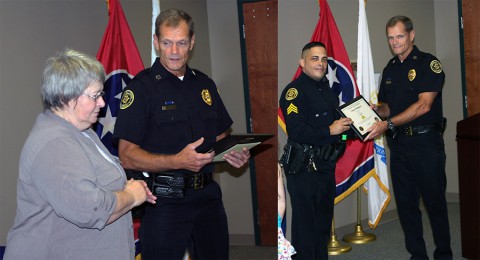 Mary Buck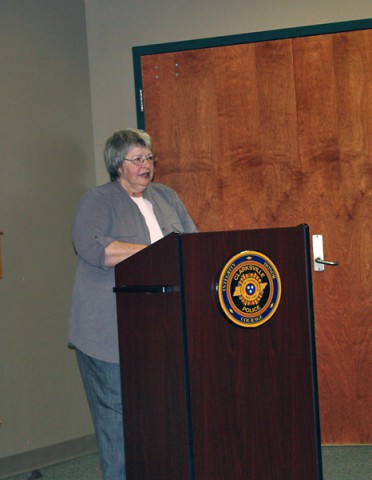 Congratulations to Mary Buck on her retirement! She served faithfully and honorably for 31 years at the Clarksville Police Department. She was the first intelligence analyst for the CPD and served with eight different police chiefs. In 2000, she received the Mayor's certificate, along with Det. Charles Abernathy, recognizing their efforts in assisting the Montgomery County Sheriff's Department in the solving of a brutal rape.
She has worked on the history of the CPD for several years, spending countless hours researching and compiling records and photos and interviewing former officers and their families.  Much of the information has been published in "The Tennessee Lawman" by Eddie Ashmore, proceeds of which help families of fallen officers.  She plans to continue with this research after her retirement. Mary's experience and professionalism will be missed.
Sergeant Nelson Rodriguez
Also, congratulations to Sergeant Nelson Rodriguez on his promotion! Sgt. Rodriguez was promoted to Sergeant on September 1st. He has worked at the CPD since January 1st, 2004.
The Clarksville Police Department would like to thank Clarksville Mayor Kim McMillan, Councilwoman Kay Jones, Councilman Geno Grubbs, family, and friends for attending this ceremony. And special thanks to the CPD staff who organized the ceremony.
Awards