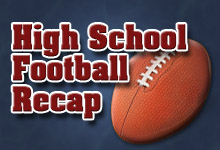 Clarksville, TN – The high school football regular season is halfway done. Five games have been played and five more remain. Only one District 10-AAA team is still undefeated while one team has yet to earn a win. In between the top and bottom, only one game separates six teams.
Homecoming games begin this week. Seniors will be recognized and the battles to win will take place in front of stands filled with extra fans cheering for their home teams.
Hot List
The Springfield Yellow Jackets put down the West Creek Coyotes 36-10 for their fifth win in a row. Still undefeated, they are comfortable at the top of the conference with a two-game lead.
The Kenwood Knights extended their win streak to three games with a 44-14 win over the Northwest Vikings. It was their second conference win and improves them to 3-2 with the Henry County Patriots, tied for second in the conference. This week the two teams will play each other at Kenwood.
Week 5 Review
After three straight losses, the Clarksville High Wildcats picked up a win over the win less Northeast Eagles. The Patriots ended the Rossview Hawk's two-game win streak and the Clarksville Academy Cougars shutout McEwen.
The Montgomery Central Indians won on the road, 14-7, over Fairview. Conversely, the Fort Campbell Falcons were blitzed by Caldwell County 35-7.
The District 10-AAA match ups continue this week. In addition to the Knights and Patriots battling for second in the conference, the Wildcats will take on the Coyotes. Both teams are at 2-3 looking to get to .500.
The Clarksville Academy Cougars and the Northwest Vikings will be playing their homecoming games this week. The Cougars will play Harpeth and the Vikings hope to bounce back against Houston County. The Falcons are traveling to take on a tough McKracken team.
Week 5 Scoreboard
Henry County 42
Rossview 20
Northwest 14
Kenwood 44
Clarksville 17
Northeast 12
Springfield 36
West Creek 10
Clarksville Academy 49
McEwen 0
Montgomery Central 14
Fairview 7
Fort Campbell 7
Caldwell Co. 55
District 10-AAA Standings:
Springfield 5-0
Henry Co. 3-2
Kenwood 3-2
Rossview 2-3
Northwest 2-3
West Creek 2-3
Clarksville 2-3
Northeast 0-5
Week 6 Schedule:
Clarksville @ West Creek
Henry Co. @ Kenwood
Ross view @ Northeast
Houston Co. @ Northwest
Springfield @ White House
Harpeth @ Clarksville Academy
Waverly Central @ Montgomery Central
Fort Campbell @ McKracken