Austin Peay Sports Information
Lady Govs eliminated from postseason contention

Martin, TN – For Austin Peay State University women's soccer team, it was an all-too-familiar scenario.
The Lady Govs had seen their season end at UT Martin each of the last two seasons – an Ohio Valley Conference Tournament championship match loss to the Skyhawks in 2012 and a semifinal defeat by Morehead State last season.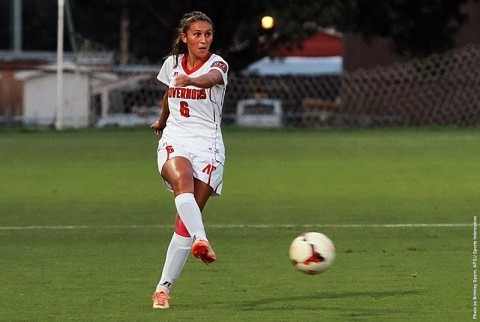 They entered Sunday's match against the Skyhawks with their backs against the wall – an Austin Peay loss and a Morehead State victory would erase all possibility of a return trip to the OVC Tournament.
It would unfortunately come to pass for Austin Peay, which fell 4-2 to the Skyhawks, Sunday, at Skyhawk Field. That coupled with Morehead State's 5-0 win against Eastern Illinois eliminated Austin Peay from postseason contention for 2014, with one home match remaining.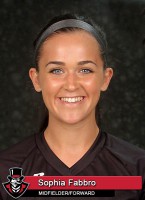 It was an inauspicious beginning, no doubt. Less than a minute into the contest, UT Martin's Rianna Jarrett took a pass from Ashlie Watson, shook a defender loose one-on-one and unleashed a rocket from inside the 18 that got by junior Nikki Filippone for her season's 16th goal.
After falling into an early hole, the Lady Govs settled down and played solidly for the half's remainder, with Filippone securing two saves. However, Austin Peay's offense was unable to get anything going against the Skyhawks and Mariah Klenke, who made two saves over the first 45 minutes.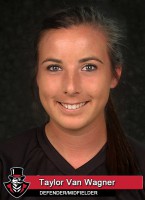 The Skyhawks would take a 2-0 lead in the 56th minute on a Jarrett feed to Dominika Conc. She slid a shot along the endline that got underneath Filippone and caught the post just right to enter the net.
Freshman Sophia Fabbro got Austin Peay on the board with her season's second goal in the 60th minute, working a give-and-go with sister Gina to win a two-on-one situation and cut the deficit in half.
UT Martin tacked on two late goals to put the match out of reach, with Watson scoring in the 71st minute on an assist from Eva Heller and Jarrett adding her second goal in the 74th minute, again with Watson on the assist.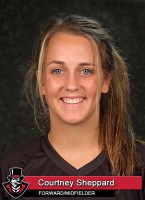 Junior Taylor Van Wagner headed home her season's first goal off a set piece in the 85th minute, redirecting the free kick by junior Courtney Sheppard into the net.
Filippone would take the loss despite making five saves. Klenke made six stops for the Skyhawks.
Austin Peay closes out the 2014 season with a home contest against Belmont, 7:00pm, at Morgan Brothers Soccer Field.
Box Score
UT Martin (12-5-1, 6-2-1 OVC) vs Austin Peay (4-12-1, 3-5-1 OVC)
| Goals By Period | 1 | 2 | Total |
| --- | --- | --- | --- |
| Austin Peay | 0 | 2 | 2 |
| UT Martin | 1 | 3 | 4 |
| Goal | Time | Team | Goal Scorer | Assists | Description |
| --- | --- | --- | --- | --- | --- |
| 1. | 00:57 | UTM | Rianna Jarrett (16) | Ashlie Watson | took pass from Watson on right side, scored in 1v1 from six yards |
| 2. | 55:46 | UTM | Dominika Conc (2) | Rianna Jarrett | took pass from Jarrett on right side, fired across the net into the bottom left corner |
| 3. | 59:44 | APSU | Sophia Fabbro (2) | Gina Fabbro | had 2v1 with goalkeeper, chipped it in from five yards |
| 4. | 70:43 | UTM | Ashlie Watson (7) | Eva Heller | took pass from right side, shot across the goal past diving keeper into left corner |
| 5. | 73:21 | UTM | Rianna Jarrett (17) | Ashlie Watson | took cross, scored into top left from 10 |
| 6. | 85:08 | APSU | Taylor Van Wagner (1) | Courtney Sheppard | took header off free kick, scored from seven yards |
Austin Peay
UT Martin
| ## | Goalie | Minutes | GA | Saves |
| --- | --- | --- | --- | --- |
| 0 | Mariah Klenke | 90:00 | 2 | 6 |
Pos
##
Player
Sh
SOG
G
A
Fouls
GK
0
Mariah Klenke
0
0
0
0
0
MF
8
Dominika Conc
2
1
1
0
0
MF
9
Alyssa Curtis
1
0
0
0
0
F
11
Rianna Jarrett
9
5
2
1
0
D
12
Amy Maksimowicz
0
0
0
0
0
F
13
Saphyra Coombs-James
0
0
0
0
0
F
14
Ellie Myrick
1
1
0
0
0
F
15
Ashlie Watson
5
2
1
2
0
D
16
Lucy Pater
0
0
0
0
0
D
18
Taylor Fry
0
0
0
0
0
D
21
Jaclyn Heckle
0
0
0
0
0
–Substitutes–
TM
TEAM
0
0
0
0
7
MF
2
Abby Masters
0
0
0
0
0
F
5
Eva Heller
1
0
0
1
0
D
7
Temple Hughs
0
0
0
0
0
F
10
Olivia Bohlman
0
0
0
0
0
MF
25
Sam Dunn
0
0
0
0
0
Totals
19
9
4
4
7