APSU Sports Information

Clarksville, TN – With the score tied in the last frame of a seven inning contest, sophomore Cayce Bredlau lifted the Black Team to a 7-3 victory on Thursday with a walk-off grand slam to right field at Raymond C. Hand Park.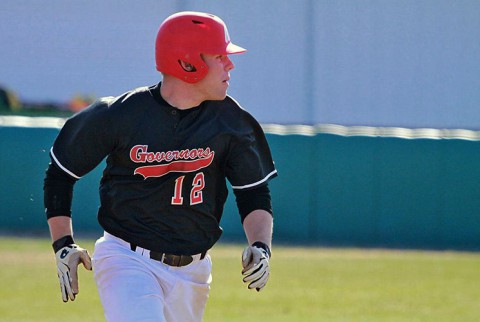 Facing a 3-1 count, Bredlau sat back on a fastball from right-hander
Jordan Harmon
, needing just a sacrifice fly to win the game.
However, even in 29-degree weather, Bredlau left no doubts in hitting it out to give the Black Team a 1-0 edge in the three-game Red-Black World Series.
The Black Squad led 3-1 going into the seventh, but Red came back to knot the score in the top half with their last hope at the plate. Junior Wesley Purcell delivered with a two-out, two RBI single to right field, scoring both Josh Wilson and Alex Robles on the play.
Despite giving up both runs, Nicholas Geile of the Black Team was granted the win, while Harmon took the loss for Red.
The Red Team forced opposing starter Jared Carkuff into walking the first two batters he faced, and then capitalized on it as Justin Wilson brought in Clayton Smithson with a sacrifice fly. However, up until the seventh, Red totaled just one hit as Black's freshman reliever Michael Costanzo came on to allow one base runner in his two innings of work.
In the third, Dre Gleason pushed across Black's first run with a groundout to first, while Kyle Blackburn followed by beating out an infield hit to allow a second run to score. Two innings later, Blackburn brought home Bredlau with an RBI single, making it 3-1.
Sophomore Caleb Powell started for the Red Team, pitching five innings, with just one of three runs being earned.
Bredlau led all batters by going 2-for-3 with four RBI and three runs scored.
Both sides will continue the Red-Black World Series on Friday at Raymond C. Hand Park, with first pitch scheduled for 4:30pm. Wednesday's original opening game was discarded and a new series of three games was created.