Austin Peay Sports Information

Clarksville, TN – Chris Horton recorded a triple-double, including a school-record 10 blocked shots, as Austin Peay State University rallied from a 17-point first-half deficit to defeat Berea, 68-63, Sunday afternoon in non-conference basketball action in Dave Aaron Arena.

The home-opening victory evens the Govs record to 1-1 while Berea, a program transitioning to NCAA Division III, fell to 0-1.

Horton finished the night with 15 points, 13 rebounds and 10 blocks—breaking his own single-game record of eight, January 2nd, against UT Martin. It was APSU's first triple-double since Trenton Hassell had 27 points, 13 rebounds and 12 assists against UT Martin, February 22nd, 2001.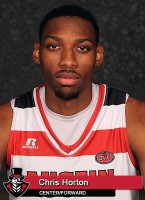 Most of Horton's effort came in the final half as APSU came back from a 10-point, 38-28, halftime deficit. He scored 10 points on 5-of-8 shooting, grabbed eight rebounds and blocked eight shots in the final 20 minutes. That defensive effort helped limited Berea, which shot 48 percent in the opening half, to only 26.5 percent (9-of-34) second-half shooting.
After APSU rallied to cut the deficit to 61-60 with 5:07 left, it was Horton's block on the next possession that led Chris Freeman to tie it with a free throw. Horton then scored on layup, with 4:30 remaining, off a feed from Khalil Davis to give the Govs their first lead since the 12:53 mark of the first half.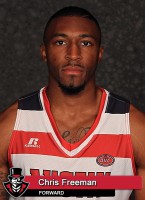 After Berea came back to tie it 63 with 2:48 left on a Tevin Webster layup, Both teams missed multiple opportunities to gain the lead. But it was Horton who almost single-handily kept Berea at bay. He blocked three Mountaineers shots in a minute.

Then with 41 seconds left Horton gave APSU the lead for good on a short jumper before Zavion Williams put the game away with a pair of free throws with 9.6 seconds left.

Horton's 10 blocks were part of a school-record 17-block night—sophomore Assane Diop had three and Freeman had two. In fact, almost lost in Horton's triple double was Freeman's double-double as he scored a team-high 19 points and grabbed 10 rebounds.

Freeman and Horton played a significant role in APSU garnering a 26-18 second-half rebound advantage and 47-38 overall.

APSU, perhaps weary from their Saturday night contest at Western Kentucky, shot just 37.5 percent (24 of 64) in the contest and only 11-of-35 (31.4 percent) in the opening half. Berea took advantage of APSU's poor offensive execution.

The Mountaineers, who shot 7-of-10 from three-point range in the first half, to go on a 19-2 run to take a 21-13 lead with 9:39 left in the half. But it didn't stop there, when London Moore connected on a three-pointer with 3:48 left in the half, Berea had the Govs down 37-20.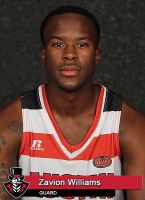 APSU was able to close the half on an 8-1 run to set up the second-half comeback.
Zavion Williams was APSU's only other double-figure scorer with 10 points, including 5-of-6 at the free-throw line. A team that struggled at the line (18 of 30) at Western Kentucky, was a more respectable 17 of 22 (77.3 percent) against Berea.
Moore led Berea's effort with 16 points, including six free throws, while Daishon Robinson and Richard Parker each tallied 12.
APSU Govenors are on the road Wednesday, November 19th to take on Samford at 7:00pm CST.
Video – Dave Loos
Box Score
Austin Peay 68 (1-1) vs Berea 63 (0-1)
| | 1 | 2 | Total | Records |
| --- | --- | --- | --- | --- |
| Berea | 38 | 25 | 63 | 0-1 |
| Austin Peay | 28 | 40 | 68 | 1-1 |
Berea 63
##
Player
FGM
-FGA
3FGM
-3FGA
FTM
-FTA
OFF
-DEF
TOT
PF
TP
A
TO
BLK
STL
MIN
31
MOORE, London
4-10
2-2
6-6
2-3
5
1
16
2
2
1
0
28
2
ROBINSON, Daishon
4-11
2-4
2-2
0-5
5
3
12
5
5
0
4
30
40
WEBSTER, Tevin
3-9
0-0
0-0
2-4
6
3
6
0
1
1
0
20
5
PONDER, Aaron
1-1
0-0
0-0
0-0
0
0
2
1
1
0
2
22
23
BECKHAM, Seth
0-4
0-0
0-0
1-3
4
4
0
2
2
1
1
20
10
PARKER, Richard
4-10
3-7
1-2
2-2
4
1
12
2
2
0
1
19
12
MYRKS, Anthony
4-5
0-0
0-0
0-3
3
1
8
2
0
0
0
16
33
CISERO, DeAnte
1-7
1-3
0-0
0-2
2
3
3
0
3
0
0
16
24
HARRIS, Ethan
1-3
0-0
0-0
0-3
3
1
2
0
1
0
0
8
30
YOUNG, Bilal
1-2
0-0
0-0
0-0
0
1
2
0
0
0
1
8
14
GARMON, Dominique
0-1
0-1
0-0
0-0
0
4
0
2
1
0
2
13
0
TEAM
0-0
0-0
0-0
5-1
6
0
0
0
0
0
0
0
Totals
23-63
8-17
9-10
12-26
38
22
63
16
18
3
11
200
Percentages
36.5%
47.1%
90.0%
Austin Peay 68
##
Player
FGM
-FGA
FGM3
-FGA3
FTM
-FTA
OFF
-DEF
TOT
PF
TP
A
TO
BLK
STL
MIN
15
FREEMAN, Chris
7-11
0-0
5-6
4-6
10
2
19
0
3
2
0
34
05
HORTON, Chris
6-12
0-0
3-5
5-8
13
2
15
0
5
10
0
28
02
WILLIAMS, Zavion
2-7
1-4
5-6
1-4
5
1
10
4
3
0
0
24
24
DYSON, Ed
2-9
1-3
2-2
0-4
4
1
7
2
1
0
1
31
11
DAVIS, Khalil
3-10
0-1
0-0
3-2
5
1
6
2
1
1
2
29
04
ROBINSON, Josh
1-2
0-1
2-2
0-2
2
1
4
1
1
0
1
12
10
IVORY, Tre
1-5
1-2
0-1
2-2
4
0
3
1
0
0
0
16
01
DIOP, Assane
1-4
0-2
0-0
0-0
0
2
2
0
2
3
0
9
23
MBOUP, Serigne
1-2
0-0
0-0
2-1
3
1
2
1
0
1
0
9
20
BUDRYS, Domas
0-2
0-2
0-0
0-0
0
1
0
0
1
0
0
8
TM
TEAM
0-0
0-0
0-0
1-0
1
0
0
0
0
0
0
0
Totals
24-64
3-15
17-22
18-29
47
12
68
11
17
17
4
200
Percentages
37.5%
20.0%
77.3%
Sections
Sports
Topics
APSU, APSU Athletics, APSU Basketball, APSU Dunn Center, APSU Men's Basketball, APSU Sports, Assane Diop, Austin Peay State University, Berea, Chris Freeman, Chris Horton, Clarksville TN, Daishon Robinson, Governors, Govs, Khalil Davis, Mountaineers, NCAA, Ohio Valley Conference, OVC, Richard Parker, Samford, Trenton Hassell, UT-Martin, Western Kentucky, Zavion Williams