Written by Sgt. Leejay Lockhart
101st Sustainment Brigade, 101st Airborne Division (AA) Public Affairs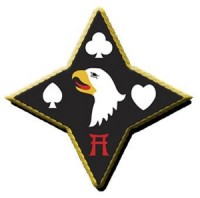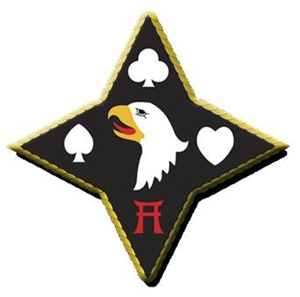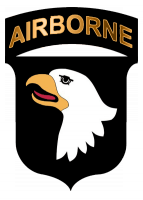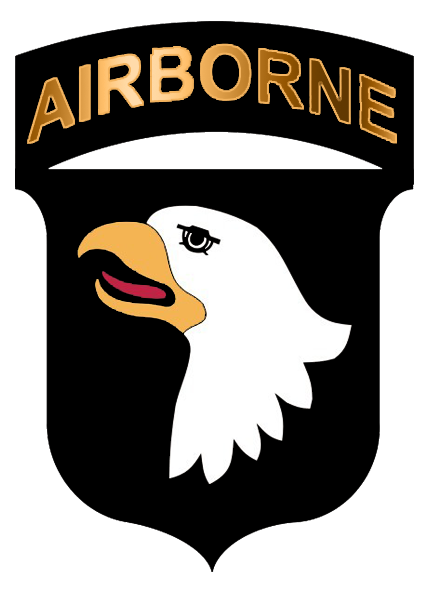 Clarksville, TN – As students packed into the gym at West Creek Middle School in Clarksville, Friday, months of planning had finally came to fruition.
The school's administration had worked closely with Soldiers from the 716th Military Police Battalion, 16th Military Police Brigade, supported by the 101st Sustainment Brigade, 101st Airborne Division, to give the students something special for Veterans Day.
The students, West Creek Middle School's faculty, members of the 716th MP Bn., veterans, and community members gathered for a patriotic ceremony honoring Veterans Day.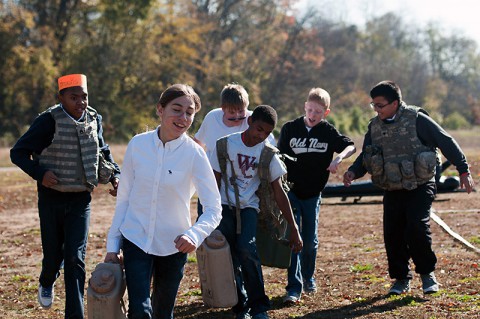 It included students speaking about the importance of veterans in their lives, the school band and choir performing patriotic songs, the 716th's honor guard posting and retiring the colors, as well as Staff Sgt. Juan Tovar, a member of the honor guard, reenlisting during the ceremony.
Additionally, both Brian Feldman, the school's principal, and Lt. Col. Leevaine Williams Jr., the commander of the 716th MP Bn., addressed the assembly about importance of veterans during their remarks.
First Lt. Jessica Owens, a platoon leader with the 551st Military Police Company, 716th MP Bn., and one of the MPs participating in the event, said taking parts in the events were "extremely important because there are Soldiers out there who've made the ultimate sacrifice." She added those sacrifices keep our country free.
Her sentiment mirrored those of the student speakers.
"Why do people we don't know fight for us?" asked Rose Guerrero, a student a West Creek Middle School during her speech. "What have we ever done for them?"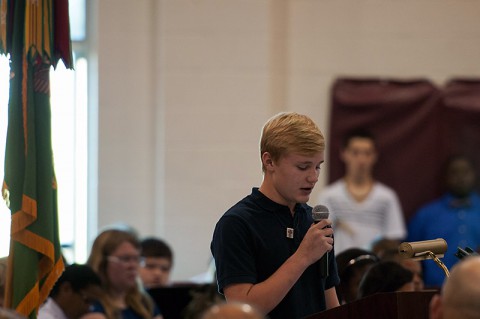 Rose answer her own questions by saying that Soldiers risk their lives not because of what anyone has done for them, but because they are heroes who risk their lives for their families and their country. Her mom, a medically retired veteran and Purple Heart recipient, was one of those heroes.
Jacob Slight, another of the guest speakers, quoting Thomas Paine, said, "if there must be trouble, let it be in my day, so that my child may have peace." This is how he described his brother's outlook on serving. Jacob said Tim, his brother, served and made sacrifices – including missing the birth of both of his sons – to give his children a better life and a better world.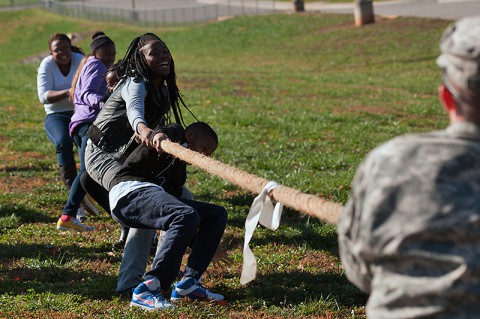 "The sacrifice is far greater than the battlefield," said Feldman. "It's that everyday piece of life and trying to get things done, when only one mom or dad is present. For me that's gave me a whole new appreciation of what our men and women do for our country."
The ceremony though was only the beginning of the day's events. Feldman said that West Creek Middle School used the event to raise funds for the Fisher House, and the school raised more than $1,500 for the charity.
Additionally, Soldiers from 716th's 551st Military Police Company, had set up different events that the students, and occasionally teachers, participated in to show them what it was like being a Soldier.
"One great thing about 716th is they're always giving out to other organizations, other units," said Owens, a native of Clinton, Mississippi. "There's never been a time where someone has called upon us and we have not answered that call. So I love this organization for that reason."
Feldman agreed that the MPs were always ready to help with events at the school, and because of its large population of military children that the holiday was especially important to the school.
"716th specifically, anything we've ever asked for, they've always helped us out. From in the past, fall festivals, those types of things … they've always helped us," said Feldman. "We're 50 percent military, so being a school that's 50 percent military we know Veterans Day is a big deal to us."
He added, "this is them out leading that piece in front of kid, and kids getting to interact and be around the military and around the Soldiers and to me that's been huge."
The MPs demonstrated two different vehicles to the students. One was an m1151 Humvee, typical of a tactical vehicle Soldiers use. The other was a Fort Campbell police car used for the MPs' law enforcement mission. The students delighted in climbing into the gunner's turret on the Humvee and turning on the siren in the police car.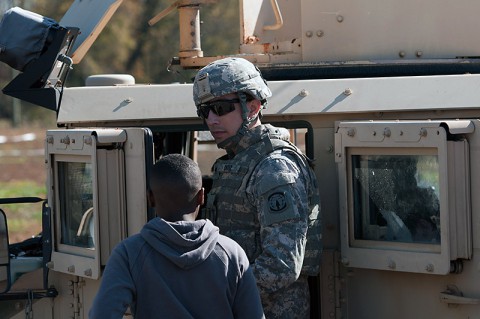 "It shows the community that we're there for them," said Owens. "It shows the community that families matter, and I think that's important for the Army because a lot of times families don't think they matter."
The students also had to go through a challenging obstacle course.
"The kids start off doing 25 jumping jacks, then they run down and do 10 pushups," said Spc. Shea Hogsed, one of the MPs helping with the obstacle course.
He said after that they had to put on a few pieces of gear and then do frog jumps. Next, they carried a litter with a dummy on it simulating an injured person. After that, students had to do five burpees then carry water cans a short distance.
To finish, they did 10 sets of mountain climbers and then bear crawled the last part of the course. He said it was the toughest part of the day's activities.
"I hope they take away that we're here for them and that there's other people that could be out here doing this but they picked the best of the best to come work with them," said Hogsed, a native of Spokane, Washington. "We showed them what it's like for the most part for what we do every day. So, we hope they get a better respect of what we have to do."
At another station, the troops had the children line up and get into a basic formation. Organizing the children, who were mostly unaware of how a military formation works, was no easy feat. Each new group took some time to get it right.
Once they had a formation, the Soldiers described the importance of formations and they then taught the children facing moves, which are the basis of military drill and ceremony.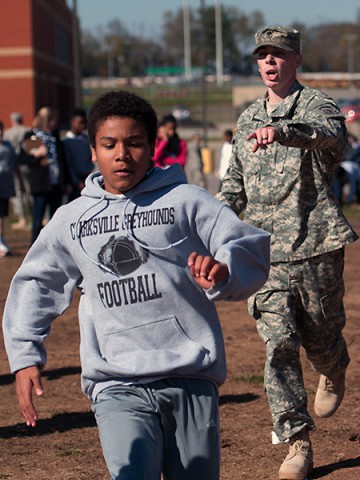 Many children loudly chanted "yes sir!" as the Soldiers gave them instructions and asked if they understood. Finally, they had the children participate in an informal competition on the moves they had just learned. Faces lit up with satisfied smiles as they properly executed the nonstop series of different facing maneuvers.
The Soldiers had also set up a tug-of-war area for the students. They would have different groups of children face off against each other. They would also have groups of students take on a few Soldiers during the tug of war. Each time Soldier faced off against student, the students won. Each victory brought new cheers of joy, along with high-fives amongst the students.
Ultimately, all of the different stations were there to show students at West Creek Middle School a little of what a Soldier's day is like. This was meant to connect the children to the troops as both celebrated the sacrifices veterans have made for this nation.
"It's pretty important to me just to remember those who have gone before us and those who are going to go after us and your brothers and sisters to your left and your right," said Hogsed. "It brings it all into perspective for what we're doing out here."