Jeep Wrangler Unlimited, Fiat 500L, Mercedes-Benz S500 ranked lowest

Yonkers, NY – The Toyota Camry Hybrid is the best overall value for the automotive dollar according to Consumer Reports' 2014 Annual New-Car Value Rankings.
Consumer Reports calculated that the Camry Hybrid earned the highest value score of 2.01, which indicates consumer dollars go about twice as far with this car than they do with the average-value car.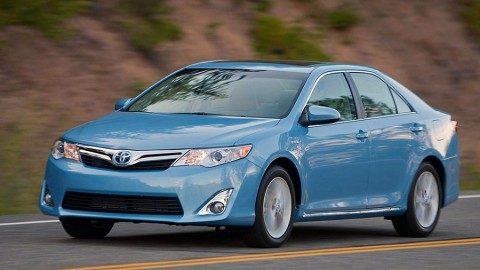 The Camry Hybrid (Tested price $29,000) is affordable for the impressive fuel economy, roominess, comfort and all-around functionality it delivers. The Camry Hybrid costs a very reasonable $0.52 per mile to operate and has Excellent predicted reliability score.
"While the Camry Hybrid may not be the most exciting car to drive, it is smooth and capable with stone-cold reliability at an affordable price," said Mark Rechtin, Consumer Reports automotive editor. "On the other hand, the worst values were a mix of underperformers, expensive, unreliable German luxury sedans, and big SUVs with voracious fuel appetites."
Consumer Reports found the best values were among midsized, mainstream sedans, compact cars and wagons. Rounding out the top five best new-car values overall were the Honda Accord (4-cyl.), Toyota Camry (4-cyl.), Subaru Legacy 2.5i and the Subaru Forester 2.5i.
The lowest value in Consumer Reports' New-Car Value ratings is the Jeep Wrangler Unlimited.  Known best for it's off-road ability, the hard-riding, ponderous, uncomfortable, and unreliable Wrangler has a Value Score of 0.07, and costs $0.77 per mile to operate.  Joining it at the bottom of the rankings were the Fiat 500L, Mercedez-Benz S500, BMW 750L, and Toyota Tacoma (V6).
In creating its annual New-Car Values list, Consumer Reports analyzed its road tests, predicted reliability, and five-year owner-cost data to calculate a value score for more than 200 different vehicles. In short, the better a car performs in Consumer Reports' road tests and reliability ratings (based on results from Consumer Reports' Annual Auto Survey, which covers about 1.1 million cars), and the less it costs to own over time, the better its value.
The five-year owner cost estimates factor in depreciation, fuel, insurance premiums, interest on financing, maintenance and repairs, and sales tax. Depreciation is by far the largest owner-cost factor.
In the popular Small SUV category, the Subaru Forester 2.5i Premium sits at the top with its Excellent reliability, Excellent Test Score of 86 out of 100, and far-above average Value Score of 1.8. At the other end of that category is the Jeep Cherokee Latitude (4-cyl.), its 0.47 Value Score exemplified by its higher operating cost, poor reliability, unimpressive Test Score, and higher price.
Here's a look at the winners and losers in each category (Best/Worst):
Subcompact: Hyundai Accent Sport (hatchback, MT)/ Fiat 500C Pop (MT)
Compact: Toyota Prius Four/Fiat 500L Easy
Luxury Compact Cars: Buick Regal Premium I/Mercedes-Benz CLA250
Luxury Midsized/Large Cars: Lexus ES 300h/Mercedes-Benz S550 (AWD)
Large Cars: Chevrolet Impala 2LTZ (3.6)/Ford Taurus Limited (3.5, V6)
Sports Cars/Convertibles: Mazda MX-5 Miata Grand Touring/Infiniti Q60 convertible (base)
Midsized Cars: Toyota Camry Hybrid XLE/Nissan Altima 3.5 SL (V6)
Wagons (AWD): Subaru Outback 2.5i Premium/Honda Crosstour EX-L (V6)
Small SUVs: Subaru Forester 2.5i Premium/Jeep Cherokee Latitude (4-cyl.)
Midsized SUVs: Toyota Highlander XLE (V6)/Jeep Wrangler Unlimited Sahara
Large SUVs: Chevrolet Traverse LT/GMC Yukon SLT
Luxury Compact SUVs: BMW X3 xDrive28i (2.0T)/Cadillac SRX Luxury
Luxury Midsized/Large SUVs: Lexus RX 450h/Mercedes-Benz GL350 BlueTec
Pickup Trucks: Nissan Frontier SV (V6)/Toyota Tacoma (V6)
Minivans: Mazda5 Grand Touring/Chrysler Town & Country Touring-L
Full details and scores for 200 vehicles can be found in the February issue of Consumer Reportsmagazine, and online at www.ConsumerReports.org starting December 18th, 2014.
About Consumer Reports
Consumer Reports is the world's largest independent product-testing organization. Using its more than 50 labs, auto test center, and survey research center, the nonprofit rates thousands of products and services annually. Founded in 1936, Consumer Reports has over 8 million subscribers to its magazine, website and other publications.
Its advocacy division, Consumers Union, works for health reform, food and product safety, financial reform, and other consumer issues in Washington, D.C., the states, and in the marketplace.