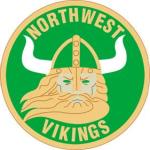 Dover, TN – Northwest High School's boys basketball team used its speed and height advantage to the fullest, Saturday, December 27th in the opening day of play in the Stewart County Rebels Christmas Classic at the Bill Craig Memorial Gymnasium, as the Vikings came away with a 59-48 victory over Clarksville Academy.
The Vikings (9-7) guards would hound the Clarksville Academy guards right from the opening tip, forcing several turnovers – both in outright steals, or in forcing bad passes out of bounds.
That would lead to several scoring chances for Northwest, including the Vikings hitting all three of their 3s in the contest — including two by Elijah McCoin — in a 12-0 run in the opening quarter, as they roared out to a 13-2 advantage in the game's first 4:40.
McCoin would finish the game with 12 points.
Clarksville Academy (3-7) would get a bucket each from Kennie Wade and Donavan Boatwright to cut the Vikings lead down to seven points, 13-6 with 2:19 left in the opening quarter, but Northwest's Dezman Stacker would score six of the final eight points scored in the opening period to extent the Vikings lead out to 11 points, 19-8, after the first eight minutes of play.
Stacker would score 15 points for Northwest, while Wade finished with 15 points for Clarksville Academy.
The Vikings would continue to build their lead as they went deeper into the second quarter, getting out too as much as a 17-point lead, 29-12, with 4:18 left in the opening half.
But back-to-back buckets by Wade would spark the Cougars to close the first half on an uptick, with Clarksville Academy outscoring Northwest 9-2 over the final 4:08 of the first half to cut the Vikings lead down to 10-points, 31-21, as the team teams went into the locker room at halftime.
Clarksville Academy would carry that late first-half momentum into the second half, with the Cougars scoring five of the first seven points of the second half to get to within seven points, 33-26 with 5:40 left in the third quarter.
But that would be as close as the Cougars would get the rest of the way, with the Vikings getting baskets from JaRyan Young and McCoin to start an 11-2 run over a span of 3:15 to extent the Northwest lead back out to 16 points, 44-28, with 2:13 left in the third.
Young would lead all scorers with 22 points for Northwest.
The Vikings would push their lead out to as many as 19 points, 54-35, early into the fourth quarter, before both teams started to empty their respective benches.
With both teams playing subs most of the final four-plus minutes, Clarksville Academy would cut into the Vikings lead – scoring the final seven points – to make the final margin a much closer than it was 11-point victory for Northwest.
Both teams will conclude play in the Rebels Christmas Classic on December 29th, with Northwest squaring off versus Cheatham County Central High School at 4:30pm, while Clarksville Academy faces host Stewart County High School at 7:30pm.
Box Score
Northwest 59, Clarksville Academy 48
| | | | | | |
| --- | --- | --- | --- | --- | --- |
| | 1 | 2 | 3 | 4 | Final |
| Northwest Vikings | 8 | 13 | 11 | 16 | 48 |
| Clarksville Academy Cougars | 19 | 12 | 19 | 9 | 59 |
Northwest: Jahnal Browne 4, Marice Wright 6, JaRyan Young 22, Elijah McCoin 12, Dezman Stacker 15. Team totals 23 10-22 59.
Clarksville Academy: Austin Fisher 15, Justin Hood 3, Ivan Purcell 2, Ian Campbell 3, Kennie Wade 15, Parker Rice 4, Donavan Boatwright 6. Team totals 14 18-27 48.
3-point field goals: Northwest 3 (McCoin 2, Stacker 1), Clarksville Academy 2 (Hood 1, Wade 1).
Records: Northwest 9-7, Clarksville Academy 3-7.