APSU Sports Information

Martin, TN – UT Martin closed the game on a 10-3 run and pulled away from Austin Peay State University for a 67-61 verdict, Saturday night, in men's Ohio Valley Conference action in the Elam Center.
The loss was APSU's sixth straight and dropped it to 7-19 overall and 2-10 in the OVC. UT Martin improved to 16-9 overall and 8-4 in the OVC.
Josh Robinson
hit a three-pointer with 3:25 left to give APSU a 58-57 lead but that would prove to the Govs' final lead.
Twymond Howard responded with a tip-in to give the Skyhawks a 59-58 advantage with 2:42 remaining.
Chris Horton was unable to score inside against physical play inside before Marshun Newell nailed a three pointer with 1:48 left for a four-point advantage.
A Govs turnover—they had just five on the night—led to two Alex Anderson free throws for a six-point, 64-58 advantage. Ed Dyson was able to convert a conventional three-point play with 39 seconds left.
APSU almost got a steal in the inbounds pass, knocking it out of bounds. And then on the subsequent inbounds, Josh Robinson was called for a foul right before a five-second call was about to be called. Anderson made two more free throws to put away the game.
The Govs controlled much of the first half, leading 30-28 at halftime despite shooting just 38 percent compared to UT Martin's 55 percent while both starting guard Ed Dyson and forward Chris Freeman played fewer than eight minutes because of foul trouble.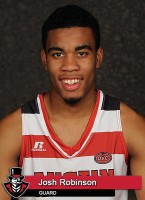 However, freshman Robinson picked up the scoring slack with nine points while Horton scored eight points and grabbed 10 rebounds.
The Governors maintained control through the second half's early stages and led by as much as four points, 44-40, on Chris Horton layup with 13:31 left in the contest. However, the Skyhawks regained momentum with a 9-3 spurt but Robinson knocked down a three pointer with 11:38 left as APSU briefly regained the lead. That would be APSU's last lead until Robinson knocked down his subsequent three at the 3:25 mark.
Robinson led all scorers with 21 points, including four three pointers, while Khalil Davis added 11. Dyson and Horton finished with 10 points. Horton also had a game-high 14 rebounds, his 15th double-double this season.
With his eighth point in the first half, Horton reached the 1,000-point mark, making him only the seventh player in Govs history with 1,000 points and 750 rebounds.
Newell, who scored a career-high 23 against the Govs in the previous matchup, led UTM with 20 points while Anderson added 13. Point guard Deville Smith had nine points, 10 rebounds and seven assists.
APSU shot just 36.5 percent (23 of 63) from the floor—the 18th time this season they shot below 40 percent. UT Martin was able to rally in the second half, despite shooting just 12 of 28 (43 percent) in the period.
The Govs held a 36-33 rebound advantage in the contest.
Video – Coach Dave Loos
Box Score
UT Martin 67 (16-9 8-4 OVC) vs Austin Peay 61 (7-19 2-10 OVC)
| | 1 | 2 | Total | Records |
| --- | --- | --- | --- | --- |
| Austin Peay | 30 | 31 | 61 | 7-19 (2-10 OVC) |
| UT Martin | 28 | 39 | 67 | 16-9 (8-4 OVC) |
Austin Peay 61
##
Player
FGM-FGA
3FGM-3FGA
FTM-FTA
OFF-DEF
TOT
PF
TP
A
TO
BLK
STL
MIN
11
Davis, Khalil
4-11
1-3
2-4
1-0
1
2
11
3
1
0
0
32
5
Horton, Chris
5-11
0-0
0-0
4-10
14
0
10
0
1
1
2
37
24
Dyson, Ed
2-6
1-3
5-5
1-1
2
3
10
0
1
0
0
18
22
Smith, Damarius
1-5
0-1
0-0
2-1
3
2
2
3
1
0
0
21
15
Freeman, Chris
1-3
0-0
0-0
1-3
4
5
2
0
1
0
0
18
4
Robinson, Josh
8-18
4-8
1-1
0-1
1
1
21
2
0
0
2
30
12
Purvis, Jeremy
1-4
1-4
0-0
0-2
2
0
3
2
0
0
0
19
1
Diop, Assane
1-4
0-2
0-0
2-3
5
3
2
0
0
0
0
16
23
Mboup, Serigne
0-1
0-0
0-0
0-1
1
0
0
0
0
0
0
9
0
TEAM
0-0
0-0
0-0
2-1
3
0
0
0
0
0
0
0
Totals
23-63
7-21
8-10
13-23
36
16
61
10
5
1
4
200
Percentages
36.5%
33.3%
80.0%
UT Martin 67
##
Player
FGM-FGA
FGM3-FGA3
FTM-FTA
OFF-DEF
TOT
PF
TP
A
TO
BLK
STL
MIN
25
Newell, Marshun
6-12
3-6
5-7
0-7
7
2
20
0
1
0
0
36
3
Anderson, Alex
3-8
3-6
4-4
1-0
1
0
13
1
0
0
1
38
24
Smith, Deville
4-9
1-4
0-0
1-9
10
3
9
7
1
2
2
39
30
Howard, Twymond
3-9
0-3
1-4
3-8
11
3
7
0
2
0
1
39
40
Martinez, Javier
3-5
0-0
1-1
1-0
1
2
7
1
1
0
0
19
20
Joseph, Arkeem
3-4
0-0
0-1
0-1
1
2
6
0
1
0
0
15
2
Taylor, Khristian
1-1
1-1
0-0
0-0
0
0
3
0
0
0
0
3
4
Lee, Richard
1-1
0-0
0-0
0-0
0
1
2
0
0
0
0
4
10
Rowe, Chandler
0-1
0-0
0-0
0-1
1
2
0
1
1
1
0
7
TM
TEAM
0-0
0-0
0-0
0-1
1
0
0
0
0
0
0
0
Totals
24-50
8-20
11-17
6-27
33
15
67
10
7
3
4
200
Percentages
48.0%
40.0%
64.7%