Austin Peay State University

Clarksville, TN – On Senior Night, Austin Peay State University's senior class rose to the occasion.
Forward Chris Freeman scored a career-high 24 points while Damarius Smith produced the go-ahead bucket with 40 seconds left and Ed Dyson sealed the contest in the closing seconds with free throws as Austin Peay defeated SIU Edwardsville, 64-61, Thursday night, in Ohio Valley Conference action in Dave Aaron Arena.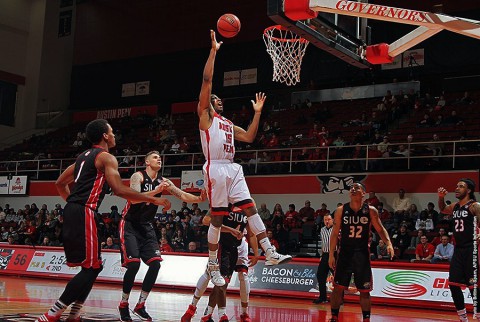 The victory snapped the Governors eight-game losing streak and improved them to 8-21 overall and 3-12 in the OVC. SIUE fell to 12-15 overall and 8-8 in the OVC.
With APSU trailing by eight, 43-35 and 11:29 remaining, a pair of seniors helped changed the game's momentum.
The 6-6 Freeman, on a fast-break pass from Smith, dunked over the Cougars' Grant Fiorentinos. That play energized the Govs and the crowd. After a missed Keaton Jackson layup, Josh Robinson responded for the Govs with his only three pointer, cutting the six-point deficit in half.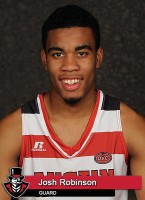 Smith then rebounded a missed SIUE shot and he found a streaking Assane Diop down the floor. Diop dunked to make it a one-point game, 43-42, with 9:04 left.
Robinson then ripped the ball out Jackson's hand before Smith drove the lane, scoring on a layup before being fouled. He converted the three-point play to gove APSU a 45-43 lead with 8:18 left.
From there it became a seesaw contest. Any time the Govs would gain an advantage, the Cougars answered with a three pointer. In fact, back-to-back threes from C.J. Carr and Donivine Stewart actually gave the Cougars a four-point advantage, 51-47, with 5:51.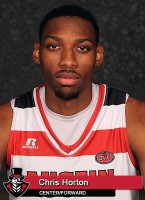 But Chris Horton tipped in a Govs miss to cut the lead to two and then Khalil Davis nailed a three pointer from the left wing—his only field goal on the night. Horton then made a pair of free throws to give APSU the lead 54-51 with 4:04 remaining before Rozell Nunn tied it at 54 with a three-pointer.
But Freeman responded on the next two possessions by powering the ball to the basket to give APSU a 58-54 lead with 3:31 remaining. Jackson then put-back a Cougars miss to shave the deficit to two with 2:28 left. After an APSU miss Nunn connected for his second three pointer of the half to provide the Cougars a one-point lead, 59-58 with 2:03 remaining.
After the two teams exchanged turnovers, Smithy drove the lane and scored to give APSU a one-point advantage with 40 seconds left.
Kris Davis, the Cougars leading scorer on the year, missed a three-point attempt with Horton's hand in his face. Smith grabbed the rebound with 20 seconds left and was fouled. He hit the first of the one-and one to give APSU a 61-59 lead, but the second one bounced out.  Stewart then attempted to drive but the defense collapsed on him, giving him nowhere to go but back to the floor—a walk with 14 seconds left.
Dyson, who like Freeman and Smith was playing his final home game, then was fouled on the inbounds pass and calmly sank both free throws to give APSU a four-point lead. Freeman missed hit one more free throw to give APSU a five-point lead with six seconds left—that free throw gave him his career-best 24th point.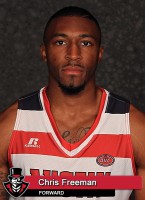 Freeman finished with a double-double—his third this season—with 24 points (9-of-12 from the floor) and 10 rebounds. However, it was Horton who owned the defensive boards. He matched his career high 18 (APSU out-rebounded SIUE 46-27), including defensive grabs, to go with three blocks. Horton's second block of the first half allowed him to pass Josh Lewis (257 blocks, 2000-03) for career blocks and move him into second place all-time in the OVC behind Lorenzo Coleman (438, 1993-97).
Robinson was APSU's only other double-figure scorer with 11 points.
The Govs finished the night with 38.5 percent (20 of 52) shooting—the 21st time this season they have shot less than 40 percent—but actually out shot the Cougars, who connected on only 37.7 percent (20 of 53) shots.
Davis led SIUE with 18 points while Nunn finished with 13.