Austin Peay Sports Information

Clarksville, TN – Although Austin Peay junior center Chris Horton was bypassed for Ohio Valley Conference honors—he was named first team by College Hoops Daily and second team by College Sports Madness—his 2014-15 season certainly left its mark and cannot be overlooked for multiple achievements by the lanky 6-8 Decatur, Georgia native.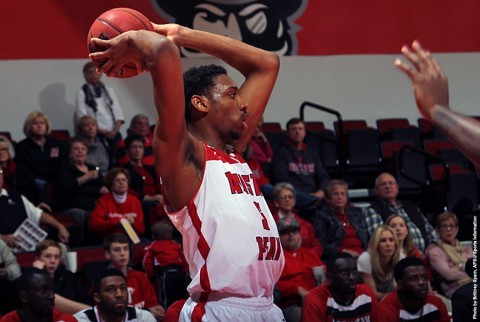 With five blocks in the Govs' home finale against SIU Edwardsville, Chris Horton passed Josh Lewis (257, 2000-03) to become APSU's all-time shot block leader and with his 262 he is now second in OVC history behind Tennessee Tech's Lorenzo Coleman (439, 1993-97).
Also in that same game, Horton was credited with 20 rebounds, becoming the first Governor since Tyrone Beck (22, February 5th, 1994) to grab 20 or more rebounds in a game single.
He led OVC in rebounding at 11.1 rpg, becoming the first Govs since Fernandez Lockett (2006-07) to do. But in averaging 11.1 Horton became the first Governors to average double-figure rebounds since Tommy Brown averaged 11.9 rebounds in 1990-91.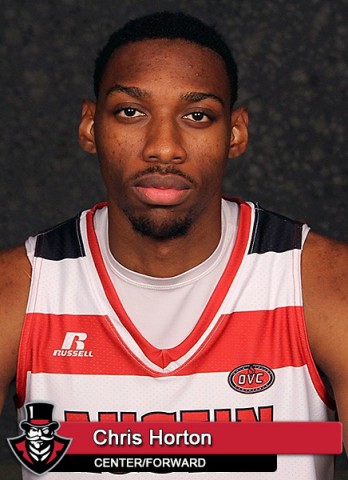 In fact, Horton, who averaged 13.1 points and 11.1 rebounds per game, became the first Gov to average a double-double since Brown averaged 17.7 points and 11.9 rebounds per outing, also in 1990-91. In fact, Horton was the only Governor to average double-figure scoring in 2014-15.
As a junior, Horton played 1034 minutes, averaging 34.5 minutes per game, the most by an APSU inside player since Drake Reed averaged 36.7 minutes per game in 2008-09 and the most by a Govs' center since Zac Schlader averaged 36.3 minutes per contest in 2006-07.
With 1043 points, Chris Horton will enter his senior season in 27th place all-time in scoring. With 830 rebounds, he is third all-time behind Tom Morgan (1431, 1952-53, 55-58) and Otis Howard (973, 1974-78). Horton ended 2014-15 ranked in APSU'S Top 20 of 11 different offensive, defensive and rebounding categories.
Horton will be one of three Governors starters returning in 2015-16, joining rising sophomore guard Josh Robinson (9.9 ppg, 12.1 ppg OVC), who scored in double figures in 12 of 16 league games, and rising senior guard Khalil Davis (9.8 ppg), who led APSU in assists in six of the final seven games. Robinson was named OVC Rookie of the Year by College Hoops Daily.