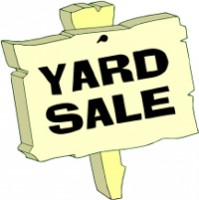 Clarksville, TN – "Having a yard sale is a reminder of every mistake you've made when you were shopping," a friend recently told me.
At the time I was in the throes of aching back, mental exhaustion and wondering if my sanity had at last left me. Yes, I was definitely recovering from having a yard sale.
The situation had become desperate. It was either have a sale or move out to get more room for all the stuff I'd bought. I couldn't imagine how I had ended up with so much stuff until I remembered all the days I had come home with the car full of items I was certain we needed immediately and could not live without.
Or I had a car full of items on sale that I was sure I would never find at that rock bottom price again.
Or I had passed someone else's yard sale and had been tempted to take that unique treasure home with me to cherish forever.
It's true. I'm a fanatical shopper—soon to be reformed (or maybe that will happen in another lifetime!) If this yard sale doesn't cure me of buying everything in sight, nothing will.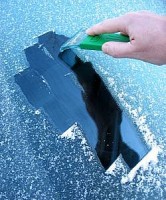 With winter over, I remember the former joys of scraping the windshield of its heavy layer of frost on mornings when I was already late and near panic to get to school on time. With things as they currently were, this garage would never hold a tire iron, much less a car.
Seeing the garage filled to the brim with piles of unused items, I knew I had to bite the bullet and clean it out. Neighbors slowed their vehicles in amazement as I slaved away filling the driveway with boxes, bags, crates and assorted individual items. I didn't dare look up as the piles grew larger because I knew the faces of passers-by were filled with horror–or they were laughing so hard their sides were hurting.
Then the worst came. I had to stack it all back inside the garage until the sale because the forecast was for rain on Wednesday and Thursday before the sale started on Friday. The giant Christmas tree had to be parked on its side and covered with a room-sized tarp. Everything else had to be crammed back into their boxes. Help!
By the end of the day I felt like I had walked to California and back with a 200-pound gorilla on my back.
Gradually during the week, I sorted, priced and agonized over whether this item or that one needed to go—knowing full well that every item under scrutiny could all be sent away and I'd never miss a one.
Finally, the morning of the sale at 4:30am. I groaned from my bed and prepared for the big event. A friend came over to help me get everything out into the driveway. It felt as if daylight would never arrive—not the mention the first customers.
The next two days were a blur. Smiling at customers, haggling and making change became my occupation.
"You sound like a used car salesman," my brother complained. "Just let people look at the stuff. They don't need all this chatter."
"How can they buy these wonderful items if they don't know their history?" I countered.
The best part of the whole event—besides getting rid of about a fifth of the stuff in the sale—was meeting our neighbors. My husband Bill and I met more people who lived on nearby streets in those two days than we had in the past three years put together. That was great fun.
Another joy was watching two of my former students (now in middle school) who are becoming collectors of antiques. I reminded them that the Leno twins on "Antiques Roadshow" started at their age and are now world-famous appraisers.
My cousin and her husband helped us all day Saturday. True friends to the bitter end, they even stayed during the horror of cleanup. The sad bottom line of any yard sale is that you never sell everything—and what's left has to be dealt with right then!
At the end of the day my garage was open enough for my car to squeeze inside, many large items we no longer needed had gone to new homes, and even the storage shed was organized. Bill and I—and my cousin and her husband–were in a state of collapse.
Having a yard sale is a somewhat like a near-death experience. You may have to go through it, but having it behind you changes your life. First, you never want to have another yard sale as long as you live, and second, you have enough stories to last a lifetime.
It's true. As all those things you thought you needed depart from your life, you know shopping will never be the same. You vow to never, ever again buy all kinds of spur-of-the-moment items.
Miraculously you are reformed forever from frivolous shopping.
(My husband adds, "If you believe this last avowal, I've got some oceanfront property in Arizona I'll be glad to sell you!")