Montgomery County, TN – The Clarksville Montgomery School System (CMCSS) has filled two administrative positions.
Dr. Mason Bellamy has been named Director of Elementary Schools, replacing Dr. Ann Griffin who retired this month. Dr. Bellamy most recently served as Director of  Services for Exceptional Children and served as interim principal at Kenwood Middle School. Dr. Bellamy is the former principal of Hazelwood Elementary, which was recognized by the state of Tennessee last year as a Reward School for growth and achievement.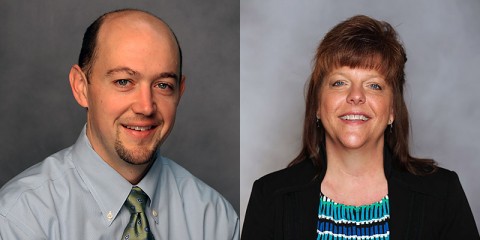 Dr. Bellamy earned his doctorate from Trevecca Nazarene University, where he also received a master of arts in teaching. He earned a B.A. in political science from the University of Kentucky.
His experience in CMCSS has included serving as assistant principal at West Creek Elementary and a teacher at Sango Elementary. He also has served as adjunct professor at Trevecca Nazarene University.
Catherine Brandt has been named Assistant Principal at Northeast Elementary School. She is filling the opening left by Regina Lyle who was named principal after Gina Biter's retirement.  Ms. Brandt most recently served eight years as an elementary principal in Pomona, Kansas. She previously has been a classroom teacher in Title I reading and as co-director of Adult Education in Osawatomie, Kansas.
She earned her master's in building leadership from Pittsburg State University; a K-12 reading endorsement from Emporia State University in Kansas; and a B.A. in business administration from Mid-America Nazarene University in Olathe, Kansas.