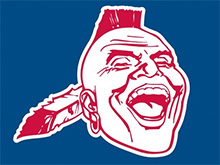 Clarksville, TN – Shhhhhh.
Don't look now.
(Seriously. There's nothing to look at except your computer screen. Maybe your dog. He doesn't care.)
With seven days left in June, the Atlanta Braves are two games back of the Washington Nationals and a game-and-a-half behind the New York Mets in the National League East race.
This, obviously, was not how life was supposed to turn out. As David O'Brien tweeted on Monday, for all the 100-loss truthers out there, the Braves would have to go 27-65 the rest of the way to hit that mark. And more people were on the 100-loss train at the beginning of this season than any of us would like to admit. I'll admit I had those dark thoughts until I stepped back and completely looked the situation over.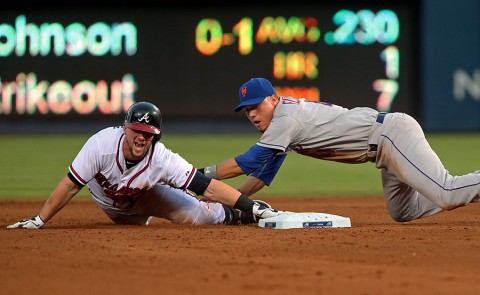 That said, this is a team that has played over its skis to this point. ESPN's Pythagorean rating has the Braves with two more wins than they should, Baseball Reference with one. That run-differential of minus-13 isn't all that great.
Nor is the strength of schedule, which stands as of Monday night at .479 – the easiest mark in the league. The Braves have feasted on the dregs of baseball, compiling a 21-16 record against teams below .500, compared to 14-19 against those .500 or better.
So mishmash all that information together and Fangraphs has Atlanta slated to finish 77-85. Which, if you believe some of what you read in the preseason, is cause for celebration.
But in the piss-poor (and that's being generous) National League East, the Braves haven't been further than a handful of games out of the race all season. John Hart has proven time and again (and again and again and again) that he's more than willing to make a deal if it furthers the organization – both now or in the future – or if he's outright fleecing the other team (more on that in a second). Can he improve this team to the point that it's a contender in September or does he even want to?
For the Braves to be buyers at or near the deadline, a number of factors have to be in place. First, Hart has to bolster the bullpen – by hook or by crook, the former best part of the team is now awful. Second, he has to find a bat in leftfield more consistent than the plethora of nothing Atlanta has rolled out in 2015 – the Braves are among only a handful of teams with a negative-WAR for the entirety of its leftfield platoon this season, and have hit .222 as a group.
Jonny Gomes (.207/.290/.322 slash line) has been the worst of the bunch, but it's not as though Kelly Johnson, the group's shining star, has fared much better (.252/.294/.437). And if they could SOMEHOW figure out how to get someone to take Chris Johnson off their hands – even if they had to pay to make him go away – that would be a triumph of epic proportions for Mr. Hart.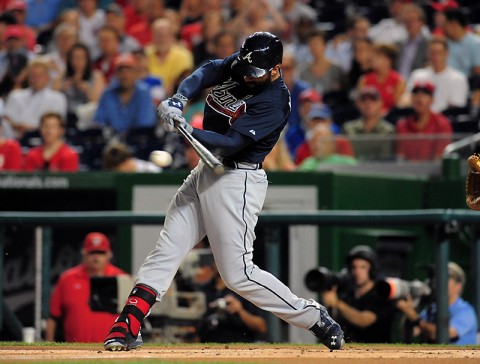 Of course, no one is taking Chris Johnson and his onerous contract off their hands without either a massive financial commitment (the entire contract basically) or a prospect on the level of Garrett Fulenchek, Victor Reyes or Wes Parsons. Or both. Probably both. And at that, they would most likely be getting a left fielder in the final year of his contract (Gerardo Parra? Matt Joyce?) and/or a reliever similar to what could be had on the open market at any point in the season, including right now.
Will all the preceding information be a non-starter for John Hart or, for the first time in his Atlanta tenure will he plow recklessly ahead and sacrifice future for present? Bet on no, but at least fantasize that he'll make the sort of deal that keeps hope alive into September. If all else fails and the Braves are toast, for all intents and purposes, by Deadline Day, then September will belong to the kids anyway.
What to Read
FanGraphs Dave Cameron
dove deep after the Braves traded Phil Gosselin for Bronson Arroyo and essentially bought highly-regarded prospect Touki Toussaint for the price of Arroyo's ghastly contract. Of all the moves John Hart has made, this is far and away my favorite – a high-level fleecing of a desperate team for a top prospect. If Toussaint never does a thing, that still looks like highway robbery.
To recap: John Hart turned Phil Gosselin into a semi-problematic contract and a consensus Top-100 prospect. Incredible. I'm going to learn how to play 'Hail to the Chief' on mandolin in his honor.
Stat o' the Week
In season's where Chris Johnson has at least 300 plate appearances, he's never had a BABIP less than .317. He's also hitting .281 for his career, indicating that's not all it's cracked up to be anyway. This year, with his BABIP as low as it's ever been (.302), his average has also cratered (.221). I'm sure there is no correlation whatsoever.
If you only catch on game of the Pirates series, make it…
Julio Teheran has been more than solid at home (2.35 ERA, .169 BA against). On the road (7.17 ERA, .362 BAA) has been a different matter entirely. So let's see what happens Saturday in Pittsburgh, against Andrew McCutcheon and the Pirates.
Complementary Old-Timey Baseball Quote
"I'm very glad to receive the Klem Award, but I'll tell you the truth, Klem hated my guts and I hated his." – John Reardon, the former umpire, on receiving the Bill Klem Award, 1970.
Best Performance by a former Brave last week
At long last, Jason Heyward's name reappears on this hallowed roll that has featured such luminaries as Mark Teixeira, Charlie Morton and Dan Uggla. Heyward smacked a couple of homers, stroked a pair of doubles and hit .444 last week. The 'Heyward can be MVP' bandwagon has returned to its upright and locked position.