Written by Sgt. Duncan Brennan
101st Combat Aviation Brigade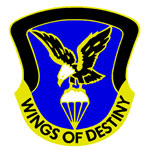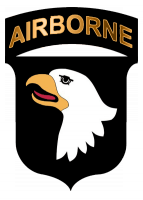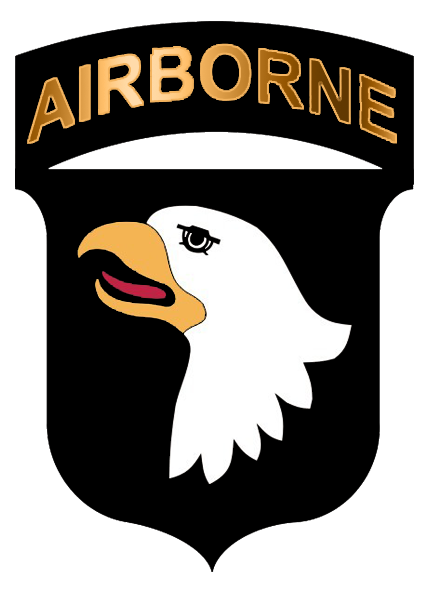 Fort Campbell, KY – Airframe structural repair specialists from Company B, 96th Aviation Support Battalion, 101st Combat Aviation Brigade, 101st Airborne Division, have been restoring ailerons for a display airplane at the company's hangar, here, for more than a month.
Ailerons are control surfaces that are attached by hinges to the trailing edge of an airplane's wings and are used to maintain side-to-side stability during flight. On this aircraft, the ailerons are nearly as long as the wings.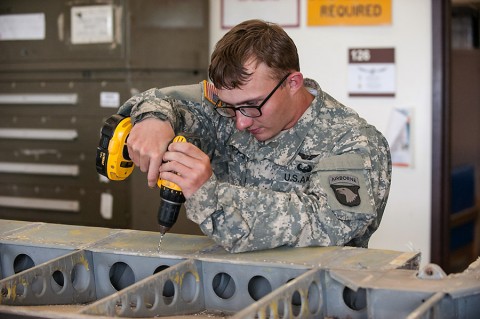 The project, which began May 18th, is a Soldier-led initiative to improve and maintain the history on display here. It grew out of previous aircraft that have been restored or repaired for the Don F. Pratt Museum.
"I asked if we could do any more restoration projects," said Spc. Crystal Metz, an airframe structural repair specialist with Co. B "Big Ugly," 96th ASB. "I spoke with the Don F. Pratt Museum's director, Daniel Peterson. After we restored the AH-1 Cobra helicopter, a UH-1 'Huey' and replacing a windshield of a helicopter at the museum. We already had an established relationship. He offered that if we ever have down time that we are welcome to perform any improvements or restorations."
The airplane, a C-47 Skytrain, is on display at the intersection of Wickham and Glider Roads. The C-47 was the airplane that many 101st Soldiers jumped out of to begin Operation Overlord on June 6th, 1944. The original skin of the aircraft was cloth and exposure to the elements had taken its toll.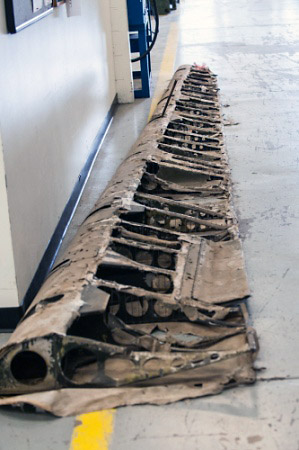 "Originally, it was covered in canvas and that had almost completely rotted away," said Pfc. Jacob Capps, an aircraft structural repair specialist with Big Ugly. "It was in such bad shape we were able to peel it off by hand."
Eventually, any material would fall apart being subjected to the weather here. To ensure that the restoration lasts as long as it can, metal will replace the cloth.
"They wanted us to replace it with more canvas," said Capps. "It makes more sense to replace it with metal, it will last longer in the elements."
The Soldiers of Big Ugly are not always available to restore historical pieces. Their time is occupied supporting the air crews that are essential to Air Assault operations. With the 101st CAB "Wings of Destiny" deployed, Soldiers on the rear detachment are not repairing helicopters with the same frequency as if the brigade were at home station. In order to keep the Soldiers busy, creative leaders within the company encourage their teams to give back to Fort Campbell and the 101st Airborne.
"Our focus is supporting the mission of our deployed units with whatever is needed," said Staff Sgt. Joseph Fillmore, the shops platoon sergeant in Co. B, 96th ASB. "In the in-between time, we are focusing on training and improving our skills. This project gives us an opportunity to train as well as improve the Fort Campbell community. I'm absolutely encouraging my Soldiers to find projects that benefit the unit and the community at large. The shop does its best to help maintain all the history that we have here. The historical displays are ideal for the air-frame shop to perform community service because the aircraft are constantly corroding and requiring maintenance."
The time between mission and training requirements is not constant. The Soldiers have been sent to other Army installations to train, and maintenance of the 101st CAB's helicopter fleet does not stop. With other priorities, a straight-forward project can stretch out.
"This project has been interrupted by other missions," said Metz. "In May, many Soldiers from our shop went to train at the Corpus Christi Army Depot in Corpus Christi, Texas. We've also gotten some maintenance missions for aircraft in Afghanistan. With the maintenance we've gotten from our deployed aircraft, we haven't had as much time to dedicate to this restoration project."
Even with the interruptions, Soldiers get the benefit of working on aircraft that are outside of their norm. They also ensure that the Soldiers coming to the 101st Airborne continue to not only have a rendezvous with destiny, but a sense of the rich history that this division has built.
"I think it's great that we're able to work on a project like this for the museum," said Capps. "It keeps the history of the Army alive. Even though we can't restore it authentically, we're preserving the aircraft so that future generations can see it and learn about it. It's a great feeling to think I had a lasting effect on this unit. I can come back in 40 years and know that I fixed that airplane.