Clarksville, TN – District #3 patrol officers investigated a report of shots fired at Prewitt's Mobile Home Park off Whitfield Road at 5:35am today.
A resident of the Park, who had severe facial injuries, said two black males broke down his front door and assaulted him, striking him multiple times in the face with a pipe.
The suspects, who were allegedly also armed with a pistol and machete, allegedly stole a television set and some medication; then searched the victim's vehicles.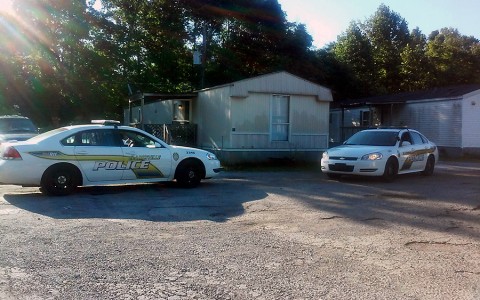 The victim claimed one of the suspects fired a pistol at him when he followed them outside. The two suspects then reportedly fled the scene in an old green car.
Officers observed that the front door of the trailer was broken completely off the hinges. Two .380 caliber shell casings and a length of pipe were later recovered at the scene.
The victim was transported to Gateway Medical Center for treatment.
At 6:18am, Gateway personnel advised the E911 Center that a patient with a gunshot wound was at the Emergency Room. Clarksville resident Joshua Troope, 23, was discovered to have one gunshot wound to the stomach. Troope was sent by LifeFlight helicopter to Nashville.
After further investigation, Detective Dennis Honholt wrote in a continuation report that Jemonte Ingram, 28, of Clarksville is being charged with Aggravated Robbery in the incident. Troope is named as an accomplice in the report. Ingram is in police custody and Troope was still in treatment at Vanderbilt University Medical Center at the time of this release.
It is unclear how Troope was shot in the stomach. The victim and suspects gave conflicting stories.