Austin Peay Sports Information

West Lafayette, IN – Redshirt junior outside hitter Samantha Strother posted a career-high tying 16 kills but Austin Peay State University's volleyball team dropped a four-set decision (22-25, 23-25, 27-25, 13-25), in its final match of the Mortar Board Premier at Holloway Gymnasium.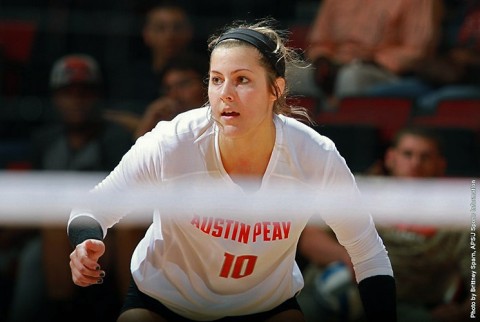 Austin Peay (0-3) will be left to wonder what could have been after it fought back from deficits in both the first and second sets to tie each set at 22-22 only to watch VCU hold off the charge each time to win the set.
In the opening set, VCU (1-2) scored the first three points and ultimately built a five-point lead, 15-10.
The Lady Govs closed that gap with a four-point burst that included kills by Strother and senior setter Aubrey Marsellis as well as a solo block by sophomore Ashley Slay.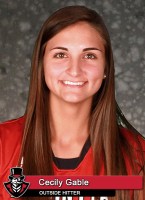 Austin Peay would eventually tie the set at 17-17 and again at 21-21. Freshman Cecily Gable would give APSU its first lead with a kill for a 22-21 advantage. But Austin Peay couldn't produce the run it needed, instead VCU took advantage of three straight APSU miscues before finishing the set with a service ace for the 25-22 victory.
VCU threatened a blowout in the second set, racing out to a 9-3 lead and eventually built a 10-point, 20-10 lead. Austin Peay roared back posting five straight kills to get back within four points, 20-16. After a one-point interlude, the Lady Govs were at it again, using another five-point run to tie the set 21-21.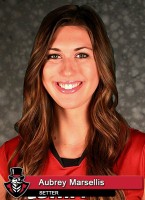 The teams would trade points to get to 22-22 before VCU scored three of the final four points – including the final point on an APSU service error – to win 25-23.
VCU dominated the early going in the third set, quickly building a 10-3 lead. Austin Peay would piece together several brief runs, none longer than three points, to get back within a point at 19-18. The Lady Govs would finally take control with a 6-0 run that culminated with a block by the freshman duo of setter Kristen Stucker and outside hitter Cecily Jones to grab a 24-22 lead.
But Austin Peay couldn't find the finishing blow and VCU rallied with the next two points to tie the set at 24-24. After another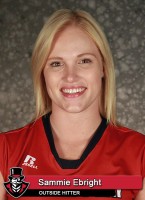 APSU set point at 25-24 was denied, Austin Peay got back-to-back kills from freshman outside hitter Ashley Carger and senior outside hitter Sammie Ebright to win the set 27-25.
Austin Peay could not carry the momentum of its third set win into the fourth set, VCU winning the frame in wire-to-wire fashion. Again, the Rams built an early 8-3 lead but this time held the Lady Govs at bay en route to the 25-13 match-clinching victory. Austin Peay would not be able to piece together more than two straight points during the entire set.
Strother's 16-kill performance paced Austin Peay's 51-kill outing. Gable broke through for her first double-digit performance as a Lady Govs, scoring 11 kills.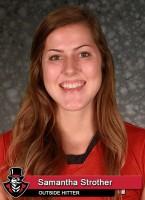 "I was disappointed we couldn't finish at the end of the first two sets. We had opportunities but did not capitalize. VCU was a very athletic squad but we were right there with them for three sets," said APSU Volleyball head coach Taylor Mott.
Kalah Jones, Sahbria McLetchie and Jessica Young each had 13 kills to lead VCU. The Rams offense finished with 56 kills but its seven service aces and eight blocks helped it hold off Austin Peay.
Austin Peay returns to Clarksville and will open its home schedule with a 7:00pm, Tuesday contest against Evansville at the Dunn Center.
Box Score
VCU (1-2) -VS- Austin Peay (0-3)
| Team | 1 | 2 | 3 | 4 |
| --- | --- | --- | --- | --- |
| VCU | 25 | 25 | 25 | 25 |
| Austin Peay | 22 | 23 | 27 | 13 |
Set
VCU
Austin Peay
K
E
TA
%
K
E
TA
%
1
13
6
37
.189
12
7
42
.119
2
15
2
30
.433
16
5
37
.297
3
15
5
36
.278
16
5
39
.282
4
13
1
21
.571
7
7
27
.000
56
14
124
.339
51
24
145
.186
Game Leaders
VCU – Leaders
| Statistic | Leaders |
| --- | --- |
| Kills | JONES, Kalah (13), MCLETCHIE, Sahbria (13), YOUNG, Jessica (13) |
| Aces | FEDDERSEN, Jane (3), BLAZE, Samantha (2), JONES, Kalah (1) |
| Blocks | COOPER, Sydney (5), YOUNG, Jessica (4), MCLETCHIE, Sahbria (3) |
| Assists | THOMPSON, Indigo (45), STRANGE, Rebekah (5), PEARCE, Tori (2) |
| Digs | STRANGE, Rebekah (19), THOMPSON, Indigo (11), MCLETCHIE, Sahbria (9) |
APSU – Leaders

| Statistic | Leaders |
| --- | --- |
| Kills | STROTHER, Samantha (16), GABLE, Cecily (11), SLAY, Ashley (8) |
| Aces | SLAY, Ashley (2), GABLE, Cecily (2), MARSELLIS, Aubrey (1) |
| Blocks | CARGER, Ashley (2), EBRIGHT, Sammie (2), SLAY, Ashley (2) |
| Assists | STUCKER, Kristen (28), MARSELLIS, Aubrey (7), STROTHER, Samantha (2) |
| Digs | ADAMS, April (20), EBRIGHT, Sammie (12), GABLE, Cecily (5) |