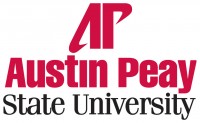 Clarksville, TN – "The South is a strange place, one that can't be fit inside a movie, a place that dares you to simplify it, like a prime number, like a bible story … like my father."
Born in Memphis, TN and raised in Mississippi, Harrison Scott Key knows a thing or two about life in the South – and the unique people that call it home.
Much like the South, Key's father was also one-of-a-kind. The author, comedian and university professor's new book, titled "The World's Largest Man: A Memoir" tells the story of a bookish boy, sharing a house with a father who often seemed at odds with the society his son embraced.
Key will stop by Austin Peay State University on October 8th at 8:00pm to read from his work in room 303 of the Morgan University Center. The event, which is free and open to the public, is part of the APSU Visiting Writers Series. A reception and book signing will follow.
The book describes a boy playing and learning with pious, Bible-reading southern men and women – all while being raised by a man who only truly felt comfortable when hunting, fighting or just plain escaping from civilization.
"(My father was) a man better suited to living in a remote frontier wilderness of the nineteenth century than contemporary America, with all its progressive ideas, and paved roads, and lack of armed duels. He was a great man, and he taught me many things: How to fight, how to work, how to cheat, how to pray to Jesus about it, how to kill things with guns and knives and, if necessary, with hammers," Key remarked.
Key, with his love of books and excessive interest in hugging, couldn't have been less like his father, and that pushed him to focus on being everything he was not. While his father shunned society, Key came to embrace it, becoming an actor, a Presbyterian and a doctor of philosophy.
But when it was time to settle down and start a family of his own, Key started to view his father in a new light, and realized—for better and for worse—how much of his old man he'd absorbed.
Amanda Winfree of Zone 3 Press, APSU's literary journal, reviewed "The World's Largest Man," praising Key for his insightful and cognizant thoughts on the absurdity of just how much he'd become like the man he once shunned.
"To describe this book as hilarious would be both true and a terrible understatement. It's a goldmine of visceral humor but also of careful observation and profound gratitude," Winfree wrote.
For more information on Key or the APSU Visiting Writers Series, contact Susan Wallace at wallacess@apsu.edu.