Clarksville, TN – The Customs House Museum traditionally offers Tennessee-flavored exhibits during the fourth quarter of the calendar year, and October 2015 is no exception.
New gallery shows include Patterns of History, which features quilts from the museum collection. Sponsored in part by Legends Bank, this exhibit highlights fifteen covers dating as far back as 1830.
The Crouch Gallery houses Rebellion & Roar: the 1920s, an exhibition of outstanding dresses and accessories from the museum collection. Included are such show-stoppers as a maroon chiffon dress complete with matching belt made by the Parisian designer, Jean Patou, and an extravagant blue Chinese silk robe worn by Finley Elder Gracey at the 1924 Texas Cotton Palace Exposition. The costume consists of a headdress, necklace, robe, and silk slippers.
Carla Ciuffo's ethereal portraits float from the walls of the Planters Bank Peg Harvill Gallery. Girl with a Scar is a quiet suite of photographs done on a metallic surface. The haunting visions of a lone girl in hazy shades of black and white bring the viewer in with a sense of intruding upon a beautiful, private moment. Ciuffo's work can be found in collections and corporate installations in New York, Los Angeles, London, Paris and Nashville.
In conjunction with American Craft Week, weaver Vicki Vipperman will do a demonstration for the monthly Art & Lunch program on October 7th at 12:15pm.
Vicki says of her work "Like many others before me, I view weaving as a metaphor for life – a sometimes simple, sometimes complex process that combines separate individual strands to form a new and coherent whole.  My goal as a weaver is to weave what machines cannot, to capture a sense of time and place, color and texture, and to create fabrics with spirit, style and when I'm really lucky, maybe even a little magic'.
This event is free and open to the general public, and was made possible by a grant from the National Endowment for the Arts.
About the Customs House Museum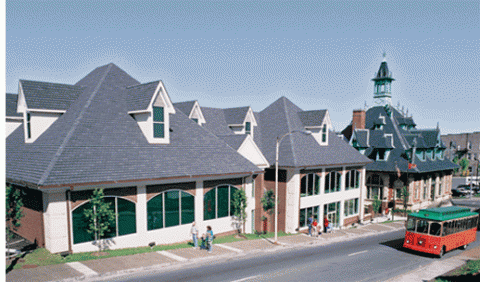 Located in the heart of historic downtown Clarksville, Tennessee, the Customs House Museum and Cultural Center is the State's second largest general museum.
With over 35,000 square feet of the region's best hands-on activities and special events…people of all ages agree – the Customs House Museum is well worth the stop!
The Explorer's Gallery is packed with fun, learning and fantasy in Aunt Alice's Attic, McGregor's Market and kitchen, and of course – the Bubble Cave! Finally, get "all aboard" to see our fantastic model trains. Our volunteer engineers "ride the rails" every Sunday afternoon from 1:00pm to 4:00pm.
Regular museum hours are 10:00am to 5:00pm Tuesday through Saturday, and 1:00pm to 5:00pm on Sundays. Adult admission is $7.00, Senior Citizens and College ID $5.00, Ages 6 to 18 $3.00, and under six years and Museum members are free.
The Customs House Museum is located at 200 South Second Street. For more information, call 931.648.5780 or visit their website at www.customshousemuseum.org