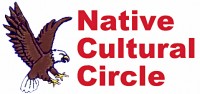 Clarksville, TN – The Native Cultural Circle (NCC) of Clarksville will be holding their 18th annual Intertribal Powwow on October 10th and 11th; the festivities begin around 9:00am on Saturday, and 10:00am on Sunday. The Grand Entry that officially opens each day begins around Noon. Come out and take part in a two day celebration of Native American Culture and traditions.

It does not matter if you are a Native American, or not! Everyone is welcome! Being your family out and share in the fellowship that is such a huge part of Native American culture. Let the tranquility of the powwow grounds refresh your spirit.

This year, the Master of Ceremonies will be Faron Weeks.  Bob "Two Bulls" Tully will be serving at the Arena Director; the Head Veterans are Clyde Maize and Nikki Laughing Otter. The Host Drum will be the White Horse Singers from Alabama. Guest Drum will be Southern Echo from Crossville, TN. You never know when other drum groups may drop by unannounced for this years powwow as well.

Come share our Culture, foods, and crafts. Shop the vendors for Arts & Crafts. Bring your lawn chair and enjoy the dancing. All vendors by invitations only.

Admission is $5.00 for adults, $2.00 for seniors, $2.00 for military and dependents with ID, with children 15 and under free.

For Information call Leroy Darnell at 931.217.0184 or email at
Driving Directions
The Port Royal Powwow grounds are located on Highway 238 in Adams Tennessee. If you are coming from Clarksville take Highway 76 north of I-24 (Exit 11) until you see the turn off for the Old Clarksville/Springfield Road. Take that left and continue until you reach highway 238. Make a left on Highway 238, and the Powwow grounds will be just across the bridge on the right. It's not far from Clarksville.
The Powwow Grounds
The Powwow is held in a location with special significance to Native peoples.
During the Indian Removal of 1838, the Cherokee nation was taken from their traditional homes in Tennessee, Georgia, North Carolina, and Alabama, and forcefully relocated to the Indian Territories in what later became Oklahoma. The Powwow grounds lay along the northern land route. Diary records of the removal identify Port Royal, as "the last stop before leaving Tennessee, and as an encampment site where the Cherokee stayed overnight or longer to re-supply, grind corn and rest."
During the removal between 4,000 and 6,000 Cherokees died. The journey became known as "The Trail of Tears" or, as a direct translation from the Cherokee Nunna daul Tsuny, "The Trail Where They Cried".
The old road bed (across the street from the Powwow grounds) along the northern portion of the Port Royal Historic Area received its Trail of Tears certification on September 19th, 2006 from the National Park Service.
With this history in mind Native Americans consider the powwow grounds sacred. To commemorate the suffering of their ancestors during their forced relocation, on Saturday October 10th the Native Cultural Circle will be holding their 9th Annual NCC Trail of Tears Memorial Walk. Walkers meet by the kiosk in the Trail of Tears area of Port Royal State Park at 10:15am. The walk begins at 10:30am.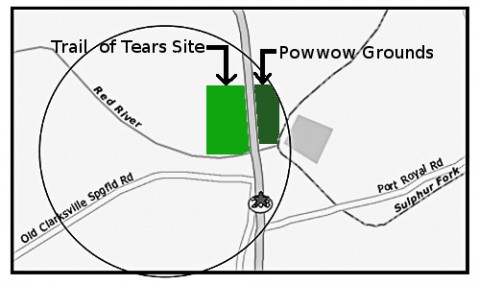 Sections
Events
Topics
Alabama, arts and crafts, Cherokee, Clarksville TN, Crossville TN, Faron Weeks, Georgia, Highway 76, Hwy 76, Intertribal Powwow, Native American culture, North Carolina, Oklahoma, Old Clarksville Springfield Road, Port Royal State Park, Southern Echo, Tennessee, Trail of Tears Memorial Walk, White Horse Singers