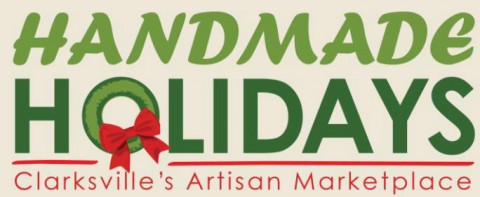 Clarksville, TN – On Saturday, November 14th, Clarksville Parks and Recreation held their 4th annual Handmade Holidays event from 9:00am until 4:00pm at the Wilma Rudolph Event Center at Liberty Park. The event continues tomorrow, Sunday, November 15th, from 12:00pm until 4:00pm.
Handmade Holidays opened to a large crowd of shoppers all looking for that special gift for Christmas as well as decorations for the holidays.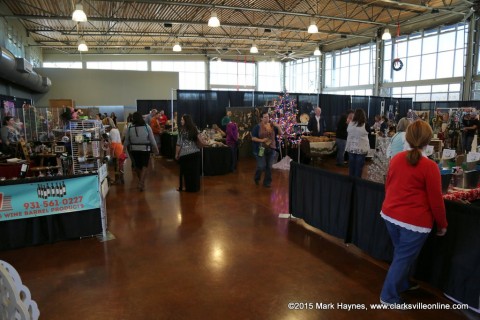 Some of the items they found were scented soaps and bath fizzies, woodworking, decorative wreaths, puppets, toys, candies, cupcakes, children's clothing, and the list goes on.
With more than 60 local crafters, designers and artists, there is something for everyone at the Handmade Holidays event.
"I look forward to this event every year," stated Samantha Combs of Dickson. "This is my third time coming and it just keeps getting better and better each year. I get special gifts for my mother and others here that you just can't find anywhere else."
By the afternoon, some vendors were running short of popular items and had to send out to bring more in. Cupcake Tuesday sold out of all their cupcakes and were having more brought in. The type cupcakes they had were chocolate, vanilla and one call the "Elvis". Cupcake Tuesday can be found on facebook at www.facebook.com/TuesdayCupcake
Janis Emery with Pure Joy Soap Company was selling several types of amazing scented soaps. Types were available for men and women. You can find them at www.purejoysoap.com
"This is our 4th year here and we love it here," said Janis Emery. "The Clarksville Parks and Recreation Department does an outstanding job supporting the vendors and getting the information, supporting the vendors. If we have any problems we can go to them and they take care of them."
"The turn out has been good. We always have a good turn out at this event. It's one of the best shows around," stated Emery.
Melissa's Hand Made Items had a variety of items made from barn wood as well as custom ivory jewelry like mammoth, mastadon and more.
"I think the event has been fantastic. It's a beautiful, sunny day and a lot of people have come out," said Melissa Breed. "Were just right around the corner from Christmas so everybody's here to buy and shop."
Wreaths Galore had different types of arts and crafts as well has handmade wreaths. Owner Theresa Smith said, "A lot of people from all over, Dickson, Nashville, have come today to just shop. I have almost sold out."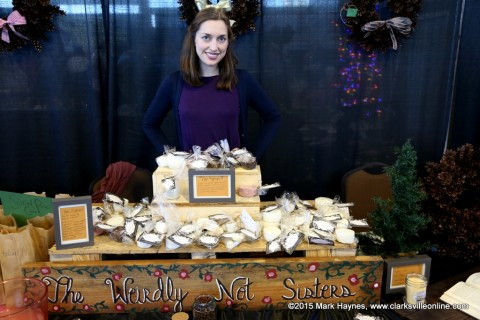 Friends Cat Murphy and Anna Day run their own business, The Weirdly Not Sisters. They got the name for their business from the literary reference but also because most people think that they are sisters and their not even related. Even their parents get their photos confused. They think it's fun.
The Weirdly Not Sisters sell all natural bath fizzies, hand painted signs, bath trays, hand made pine cone wreaths, natural branch jewelry holders as well as scented pine cones.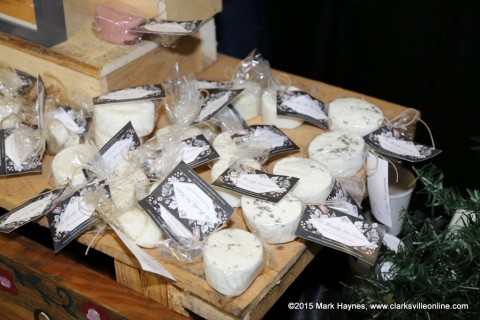 One they say is just the bomb is the Fizzy Whizzbanger for the bath. Made with natural ingredients to ensure maximum relaxation without fear of skin irritants, Fizzy Whizzbangers employ soothing oils, therapeutic herbs and botanical butters for a luxurious bathing experience. Fizzy Whizzbangers are made to order in a multitude of scents. The Weirdly Not Sisters can be found online at this link.
"This event has been fantastic. We have had a lot of foot traffic come through here. More so than we expected. Our last festival was good but it was pretty hit and miss," said Cat Murphy. "At this event, people are here to shop and get ready for Christmas. They are here to do everything they need to so they have that perfect present. We really appreciate the opportunity to be here."
This year's vendors, by category are:
Candles
Ceramic
LNM Creation
McMahan Pottery
Terry Ellis
Thornton Pottery
Decor
C&L Farm
Dawn Cottrell
Infinity Designs
MJE2WEAVE
Scatter Sunshine
Fabric
Author Signing Booth & Crafts
Bonnie Custom Creations
JeniLyn's
Lynn and Lu
Maxx and Mee
Nonna's Creations by Ronda Canter
Pitter Patterson's Boutique
Sacer and Savive
Sew Adorable Bowtique
Simply Stitches by Dee
Sweetmay's Creation
Willow Stitch Aprons
Food
Aunt Joey's Candies
B's Cheesecakes
Cupcake Tuesday
Good Eats Food Truck
My oh my fried pies
Millers Confections
Nashville Hot Chicken Report
Natural Choices Botanica
Glass
Jewelry
Alexandria's Authentically Made Jewelry
Ecohandmade
Fanfaron
Signature Rings
The Salvaged Edge
Metal
Breed Custom Knives
Metal Concepts LLC
Mixed
3 6 5
Buck's Daughter
Creative Cutters Corner & Crafts
Custom Crafts with a Classic Look
K C Creations
Puppet Planet
The Weirdly Not Sisters
Photography
Soap
Dancing Cow Creamery
Possum Moon Soap
Pure Joy Soap Co.
The Green Rift
Stitched
Annie and Friends
Faerytail Farm
Knit One Weave Too
NiftyCrochetWorks
That's Sew Lindz
Wood
Hokeywoodworking
London Woodworks
Original Wood-Works
Pretty Home Creations
Simple + Sage
The Glass From the Past
The Cut Above Woodworking
Tuckessee Woodturners
Wreaths
Beverly Keay
Butler's Korner
Hair Affair/ Wedding Etc.
Lottie Grace Designs
Wreaths Galore
"This is my second time coming to this event and I think it's just wonderful," stated Megan Hamilton. "I have already found the perfect gift for my mother and now I'm looking for something for my grandmother. I love the variety of items. This is one of my favorite local events."
Dont forget, the Handmade Holidays event continues tomorrow, Sunday, November 15th from noon until 4:00pm at the Wilma Rudolph Event Center at Liberty Park. Admission is free!
Liberty Park is located at 1188 Cumberland Drive.
Photo Gallery