Clarksville, TN – The Montgomery County Sheriff's Office (MCSO) is asking for the community's assistance in identifying two suspects involved in an aggravated burglary.
The burglary occurred in the 400 block of Oakland Road on Sunday, December 27th, at approximately 11:00am.
The suspect(s) entered the residence while the homeowners where attending church services and removed a television, numerous credit cards, and personal documents.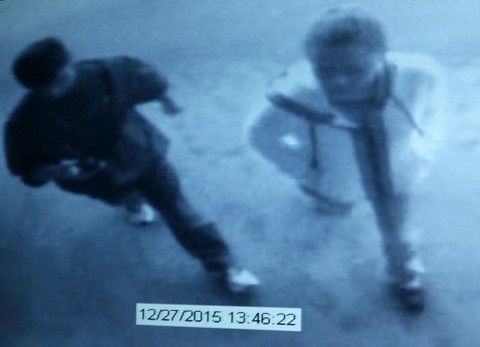 A couple was later seen on video using the stolen credit cards at four local businesses.
Dollar General on Ashridge Drive at approximately 12:02pm.
Walmart Supercenter at 14800 Fort Campbell Boulevard at approximately 1:03pm.
Walmart Supercenter at 3050 Wilma Rudolph Boulevard at approximately 2:00pm.
Marathon Gas at 1230 Peachers Mill Road at approximately 3:05pm.
The female suspect is Caucasian with reddish brown hair, slim build, and in her early twenties. She was last seen wearing light colored blue jeans and a white zip up hoodie with dark trim.
The male suspect is Caucasian with short dark hair, slender to medium build, and in his early twenties. He was last seen wearing dark colored pants, a dark colored shirt, and a dark colored jacket.
The suspects were driving a small black four door car.
Anyone with information is asked to contact Investigator Jesse Hedrick at 931-648-0611 or CrimeStoppers at 931.645.TIPS (8477).
Additional Photos