Austin Peay (8-12/1-4) vs. SIU Edwardsville (4-14/1-5)
Thursday, January 21st, 2016 | 7:00pm CT
Clarksville, TN | Dunn Center

Clarksville, TN – The weather outside was frightful, at least Wednesday it was…but Thursday's expected improved conditions will have Austin Peay State University men's basketball team seeking to get back to its winning ways by playing host to SIU Edwardsville, 7:00pm, in Ohio Valley Conference play at Dave Aaron Arena.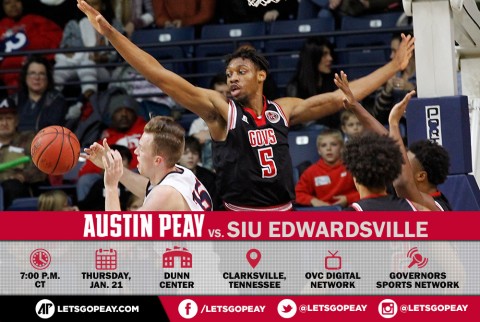 The Governors are amidst a three-game losing streak, owning a 1-4 league mark and 8-12 record overall, and plans to reverse their fortunes must come on the offensive end.
The Govs shot only 34.8 percent in two road losses last week, and just 20 percent (8-of-40) from three-point territory as APSU scored just a total of 110 points. Add to that is the fact the Governors are shooting less than 60 percent from the free-throw line during OVC play.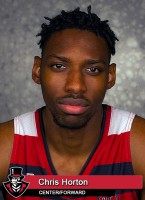 Other than Chris Horton, who averaged 18 points while shooting 58 percent from the floor in the two contests, the remaining starting Governors struggled. As a result, they will look in particular to sophomore guard Josh Robinson and senior forward Khalil Davis to snap out of their recent offensive lethargy. Robinson, who is averaging 13.8 points, and Davis, who is averaging 12.5 points per outing, combined for just 19 points in Nashville, going 0-of-11 from three-point range in the two games.
The Governors will be playing host to an SIUE club that comes in 4-14 overall and 1-5 in the OVC. However, that one win came impressively in their last outing, defeating Eastern Kentucky, 67-65, last Saturday at home. They did it by holding the Colonels scoreless over the final three minutes. APSU lost their OVC opener at home to the Colonels.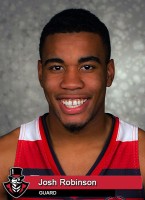 Reigning OVC Player of the Week Burak Eslik, who has averaged 28 points per contest over the last three games, scored 21 points against EKU and is averaging 14.8 points per game this season (17.7 ppg in OVC play). Freshman guard Carlos Anderson, who is averaging 10.8 points per outing, scored a career-high 18 points against EKU.
Post player Yemi Makanjoula is averaging 10.8 points and 6.8 rebounds per game during league play. Sophomore point guard C.J. Carr is averaging 5.7 assists per game in league play.
It will be a homecoming for former Austin Peay basketball star Charles "Bubba" Wells, the former Governors assistant coach who now serves in a similar role for SIUE and its first-year coach Jon Harris.
Broadcast Information
Radio • Governors Sports Network
Play-by-Play: Scott Chase
Analyst: David Loos
TV • OVC Digital Network
Play-by-Play: Braden Wood
Analyst: Manny Bell
Sideline: Sheridan Black
APSU Governors on the Web
Live Statistics: www.StatBroadcast.com
Live Audio: www.LetsGoPeay.com