Nashville, TN – The National Weather Service (NWS) reports light snow accumulations are possible over Clarksville-Montgomery County and parts of the mid state tonight and freezing temperatures will also arrive.
The atmosphere will remain chocked full of moisture tonight as an upper level disturbance swings southeastward, out of Kentucky, across the mid state. Temperatures tonight will start above the freezing mark.
However, following the passage of the weather disturbance late this evening and overnight, temperatures will fall below the freezing mark.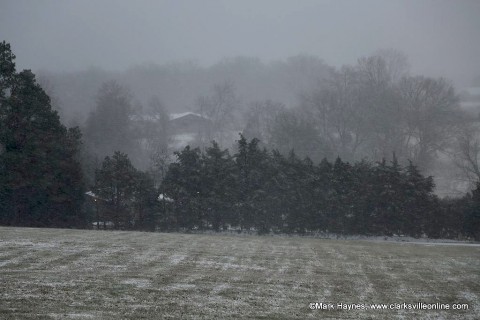 Snow accumulations up to an inch may occur along the Cumberland Plateau. Further west, toward Nashville and the Interstate 65 corridor, light amounts of one or two tenths of inch are possible.
Only trace amounts of snow are expected further west.
Lingering moisture on area roadways late tonight could produce patchy black ice, especially on bridges and overpasses, after temperatures fall below the freezing mark. Motorists should exercise appropriate caution overnight when traveling through wintry precipitation.
You should be aware of the outdoor temperature and expect possible slick spots once the temperature falls below the freezing mark.
Counties Affected
Clay County, Macon County, Montgomery County, Pickett County, Robertson County, Stewart County, and Sumner County.