APSU Sports Information

Clarksville, TN – Calling all APSU Governor fans –
The Austin Peay State University Governors are going dancing after four magical days in Nashville Tennessee! We need your support when we open NCAA Tournament play next week, and we need you to be as loud and proud for our first NCAA Tournament game since 2008 as you were over four incredible days in Nashville.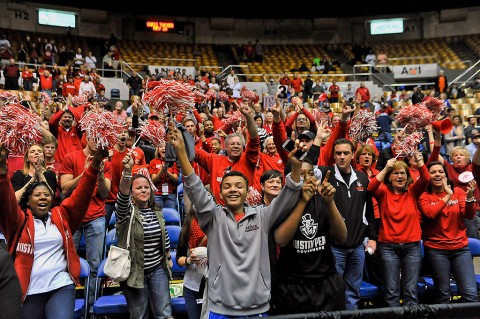 Here's the deal—whether Austin Peay winds up in the First Four in Dayton or at a first-round site to be determined, a $25.00 non-refundable deposit can be made with Austin Peay's ticketing office to reserve your tickets.
Champion and Black Tie Governors Club members have the first opportunity to reserve their tickets, and all remaining Governor Club members can begin reserving seats Tuesday and Wednesday.
Austin Peay's season-ticket holders, who are not Governors Club members, can start reserving Thursday. Students, alumni and APSU faculty/staff can make reservations Friday, with the remainder of Austin Peay's ticket allotment available to the general public after that.
Priority will be given to Governors Club members, but there's still time to join the Governors Club and assure your place in the stands next week. Contact the Austin Peay Ticketing Office at 931.221.PEAY both to join the Governors Club and to inquire about NCAA Men's Basketball Championship tickets wherever the Governors wind up.
Also, be on the lookout for more information this week about where to purchase Austin Peay's OVC Championship gear, as well as information for Sunday's NCAA Selection Show party.