Clarksville, TN – Austin Peay State University's Department of Art and Design is proud to host its annual juried student exhibition in the Trahern Gallery from March 28th through April 15th, 2016.
As the tradition of showcasing the artistic talents of the Austin Peay students enters its 48th year, this exhibition rounds out what has been an exciting 2015-2016 gallery season.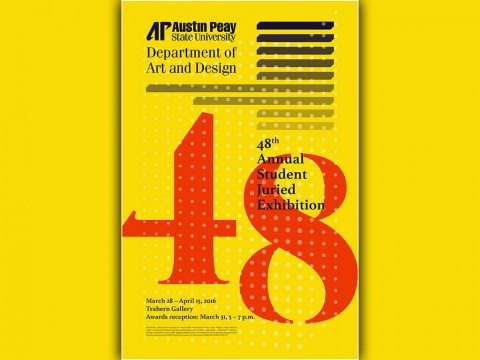 This year's jurors were Jo Dery, Assistant Professor of Film Studies at Keene State College and Rachel Briggs, owner of Rachel Briggs Illustration + Design.
Jo Dery is an artist who experiments with visual storytelling. Her creative practice is rooted in drawing – mining autobiography and a deep love of the natural world for inspiration. She makes short films, books and comics, works on paper, and multimedia installation projects.
Her short films have screened at the Ann Arbor Film Festival, the International Film Festival Rotterdam, and the Eyeworks Festival of Experimental Animation. In 2012, she received the Helen Hill Award, which supports innovative independent filmmakers. She has been awarded grants from the LEF Foundation, The Free History Project and the Rhode Island State Council on the Arts.
Her drawings and prints have been exhibited in Providence, New York, Chicago, Los Angeles and Berlin. Her little books can be found in independent stores like Ada Books (Providence), Quimby's (Chicago) and Little Otsu (Portland).
Rachel Briggs is a graphic designer and illustrator raised in Memphis, TN. Her illustrations and photography have appeared in many national publications such as: Budget Travel, Deli, GQ, HARP, Mule, NATIVE, No Depression, Outside, Paste, Relix, Rolling Stone, SPIN, Texas Music Monthly, Time Out Chicago and Travel + Leisure magazines, as well as Village Voice, The Guardian, Nashville Scene, The Memphis Flyer and The Commercial Appeal.
As a graphic designer, her long list of clients include: TO Records, The Austinist, Big Hassle, Billy Reid, Brooklyn Arts Press, Capitol Records, Chicago Review Press, Dualtone Records, EMI Records, K Swiss, Krian Music Group, Misspent Records, Omni Hotels, Plowboy Records, Solid State Records, Soundland Music Festival, SXSW Music Festival, Sympathy For The Record Industry, Theory 8 Records, Third Man Records, Tooth & Nail Records, Universal Records, University of North Carolina, Warner Brothers Records, Warner Music Group and Wiseacre Brewing Company.
She has been a guest speaker at TOPCON Design Conference, Creative Works Conference and has been a juror for the Nashville Scene Annual Photography Issue and for AIGA Southern Rising Designers Showcase.
An opening reception will be held on Thursday, March 31st from 5:00pm–7:00pm. Exhibition awards will be announced and scholarship recipients will be recognized beginning at 5:30pm.
Among the exhibition awards from the University and the Center of Excellence for the Creative Arts, the Department of Art and Design would also like to thank The Framemaker, Plaza Art Supplies, The Customs House Museum, The Frist Center for the Visual Arts and Cheekwood Botanical Garden and Museum of Art for additional cash awards and memberships.
For more information on this exhibition, which is free and open to the public, contact Michael Dickins, gallery director, at