Clarksville, TN – The Customs House Museum and Cultural Center is located in historic downtown Clarksville, Tennessee. Come explore an entire city block featuring large gallery spaces filled with fine art, science and history.
Some of the events in April at the Museum are: A Woman's Touch: Celebrating Tennessee Crafts, James Alexander: Sculptural Thinkings, Elizabeth LaPenna: Expressions in Color, A Time of Mourning, Cast of Blues, Hook Rug Demonstration, and Women Writers Hour.
Exhibits
A Woman's Touch: Celebrating Tennessee Crafts
March 4th – Apr 30th
The Customs House Museum rounds out its Tennessee Crafts celebration with A Woman's Touch. This exhibit features female artisans from across the state of Tennessee. Sponsored in part through grant funding from National Endowment for the Arts.
James Alexander: Sculptural Thinkings
March 10th – May 1st
Trained as both an architect and as a sculptor, James Rodger Alexander utilizes form to articulate and delineate space. Both his large scale sculptural installations and small scale sculptural pieces focus primarily on one reoccurring issue: the resolution of the conflict between opposing forces. The recognition of dualities and the quest for a resolution is the consistent element in his work.
Elizabeth LaPenna: Expressions in Color
March 1st – May 1st
An abstract artist working in acrylics and mixed media, Elizabeth LaPenna approaches each piece from an intuitive perspective, inspired by spirituality and nature. LaPenna is an award winning visual artist whose work is held in both private and corporate collections throughout the United States. A Chicago transplant, raised in upstate N.Y., she is currently based in Nashville, Tennessee.
School Days: From the Collection
March 4th – May 8th
What was it like to attend the Clarksville Female Academy? Items from our collection take a look at the schools and graduations of Montgomery County from the late 1860s to the 1930s.
Photographs, diplomas, graduation dresses, and school related documents are on display to give insight into the lives of locals such as Carrie Wyatt and Mabel Ray Edmondson.
A Time of Mourning
March 10th – May 8th
The grieving process is explored through clothing, photographs, and other objects from the Customs House Museum's collection, including items owned by Serepta Jordan.
Oh, To Live by the Sea
March 22nd – April 28th
This traveling exhibit features hook rugs by various artists, all with an ocean theme.
Cast of Blues
March 22nd – May 25th
A celebration of Mississippi's rich musical heritage, the exhibition A Cast of Blues features 15 resin-cast masks of blues legends created by artist Sharon McConnell-Dickerson, as well as 15 color photographs of performers and of juke joints by acclaimed photographer Ken Murphy.
Activities
Hook Rug Demonstration
Saturday, April 9th, 10:00am – 2:00pm
Hook rug members featured in the exhibit Oh, To Live by the Sea will be set up in the galleries for a working demonstration on hook rug technique. Program and admission are free as part of our Second Saturday Free Admission Day.
Women Writers Hour
Tuesday, April 12th, 6:30pm – 8:30pm
Local women writers will read from selected works in our galleries. Event features authors Mitzi Cross, Angela Deppeler, Sharon Mabry, Cyndi Marsh, Karen Parr Moody, Shana Thornton, and Amy Wright. Admission is free!
Story & Craft Time: Our Forest Friends
10:30am – 11:00am
April 7th – Porcupines
April 13th – Beavers
April 21st – Squirrels
April 27th – Rabbits
Free Saturday Family Day: Make Me Laugh!
April 9th, 10:00am – 4:00pm
April is National Humor Month. Come draw some silly pictures, make a silly animal, listen to some funny jokes, read a silly story.
Program for Adults: "Let's Talk About: the Cold War"
April 28th, 2:00pm – 3:15pm
Fall Out Shelters, Duck & Cover, the Cuban Missile Crisis, the race to the moon, McCarthyism, spies and counter-spies, the Soviet Union, Khrushchev, communism, the Berlin Wall: join me for a trip down Memory Lane as we talk about the longest war in American history.
We will also look at my grandparents' Ground Observer Corps pins, children's books published in the Soviet Union, and some letters from Alexander, my Russian pen-pal who once worked for the Department of Commerce in Far East Russia.
Program for Adults: The Art of the Picture Book: The Uncle Remus Stories
April 12th, 2:00pm – 3:15pm
Like many other beloved storybooks, Tales of Uncle Remus has been illustrated by numerous artists, such as A.B. Frost, since its first publication in 1880. These animal stories, written by Joel Chandler Harris, are based on African-American tales Harris heard while working on the Turnwold Planation in Eatonton, GA.
Join us for a look at some of these books, including one that is written in the vernacular of the day, as well as a discussion of Joel Chandler Harris.
Please Note: Home-school teens and college students are invited to join both of these adult discussions.
All activities are free with your paid admission or museum membership. For more information contact Ms. Sue at or 931.648.5780 ext. 28.
About the Customs House Museum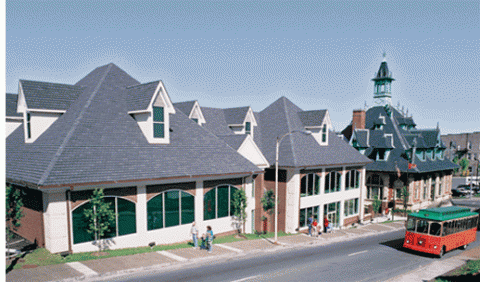 Located in the heart of historic downtown Clarksville, Tennessee, the Customs House Museum and Cultural Center is the State's second largest general museum. The original portion of the building was constructed in 1898 as a U.S. Post Office and Customs House for the flourishing tobacco trade. Incorporating a number of architectural styles, the original structure is one of the most photographed buildings in the region.
With over 35,000 square feet of the region's best hands-on activities and special events…people of all ages agree – the Customs House Museum is well worth the stop!
The Explorer's Gallery is packed with fun, learning and fantasy in Aunt Alice's Attic, McGregor's Market and kitchen, and of course – the Bubble Cave! Finally, get "all aboard" to see our fantastic model trains. Our volunteer engineers "ride the rails" every Sunday afternoon from 1:00pm to 4:00pm.
Regular museum hours are 10:00am to 5:00pm Tuesday through Saturday, and 1:00pm to 5:00pm on Sundays. Adult admission is $7.00, Senior Citizens and College ID $5.00, Ages 6 to 18 $3.00, and under six years and Museum members are free.
The Customs House Museum is located at 200 South Second Street. For more information, call 931.648.5780 or visit their website at www.customshousemuseum.org
Sections
Events
Topics
Amy Wright, Angela Deppeler, Berlin Wall, Carrie Wyatt, Clarksville TN, Customs House Museum, Customs House Museum and Cultural Center, Cyndi Marsh, Downtown Clarksville, Eatonton GA, Elizabeth LaPenna, Hook Rug, James Alexander, Joel Chandler Harris, Karen Parr-Moody, Ken Murphy, Mabel Ray Edmondson, Mitzi Cross, National Endowment for the Arts, Russia, School Days: From the Collection, Serepta Jordan, Shana Thornton, Sharon MAbry, Sharon McConnell-Dickerson, South Second Street, Soviet Union, Tennessee