APSU Sports Information

Clarksville, TN – Austin Peay State University men's basketball fans will have a chance to help the Governors celebrate their recent Ohio Valley Conference championship when APSU athletics and the Governors Club serve as host to a "Championship Gathering and Ring Fundraiser," 7:00pm, Monday, at the River Club Golf and Learning Center on Warfield Boulevard.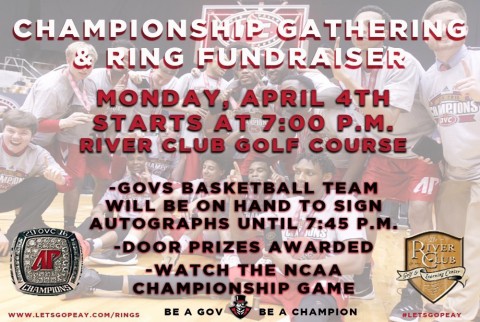 Fans will have an opportunity to meet and gain autographs from the Governors basketball team during the 7:00pm hour before getting a chance to contribute to the purchase of championship rings for the 2016 OVC tourney champions, who became the first No. 8 seed to win the title—a miraculous run that saw them claim four straight wins in four straight days.
Head coach Dave Loos is hopeful to have available a tentative design of the ring for fans to view.
Open to the public, monies will be raised Monday via donations and pledge cards while fans are invited to stick around at the River Club to watch on TBS the 8:18pm. NCAA National Championship game.
Door prizes will be awarded during the night, including an autographed mini-NCAA Des Moines Regional banner.
For information about the Ring Party, telephone the APSU Athletic Department at 931.221.7903 or Alaric Klinghard, Director of Corporate Relations, at 931.221.7615.