APSU Sports Information

Clarksville, TN – Austin Peay State University's softball team saw UT Martin put up crooked numbers in too many innings, Saturday afternoon at Cheryl Holt Field, as they were swept in their Ohio Valley Conference doubleheader by scores of 5-1 and 20-9.
The Govs (5-21, 1-9 OVC) only gave up runs in two innings in the opener, but both innings saw multiple runs score, with the Skyhawks scoring twice in the second inning and three times in the fifth.
In the second inning, UTM's Alli Fulcher had a run-scoring double — with the other run coming in off an APSU error — while in the fifth inning, all three runs came across on a home run by Katie Warrick.
The Govs lone run came in the bottom of the fourth inning on a solo home run by Carly Mattson, her first of the year.
Kendall Vedder would lead Austin Peay with two hits.
In Game 2, Austin Peay's offense warmed up – scoring nine times – but unfortunately they gave up 20 runs in the contest, coming on two six-run innings, two three-run innings and one two-run inning.
The 20 runs scored by the Skyhawks (19-15, 5-5 OVC) were the second most given up in a game in program's 31-year history.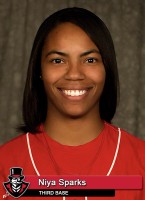 Renate Meckl and Aeron Smith would have the biggest hands in scoring the 20 runs for UT Martin, with Meckl going 3-for-4 at the plate, with six RBI, while Smith had two hits in five at bats, driving in five.
The Skyhawks Warrick, Lauren Myers and Jodie Duncan would drive in two runs each.
Niya Sparks had a home run and drove in two for APSU, while Chandler Groves also drove in two with a double. Danielle Liermann led the Govs with three hits.
The two teams conclude their OVC series today with a single game, scheduled for a noon first pitch.