APSU Sports Information
Clarksville, TN – For the first time in 14 days, Austin Peay State University's baseball team will take the field for a midweek outing. First, the Governors will host Middle Tennessee in a 3:00pm, Tuesday contest at Raymond C. Hand Park.
Austin Peay then heads north for a 6:00pm, Wednesday contest against Evansville at Braun Stadium.
The Govs look to continue building momentum as the season winds down, with just nine games remaining on the regular-season slate.
Austin Peay got the month off to a good start, winning a three-game Ohio Valley Conference series against UT Martin, 2-1, last weekend.
Austin Peay finished the UTM series with 30 hits and a .300 batting average. But more impressive was its 20 walks and .423 on-base percentage against just 12 strikeouts. Junior Alex Robles led that effort with a .556 batting average and .667 on-base percentage against the Skyhawks – both team bests. Junior Chase Hamilton had four extra-base hits (two home runs) as part of a 7-for-13 weekend and led APSU with a 1.154 slugging percentage.
The Govs weekend starting rotation posted a 2-1 record against UT Martin despite a 6.75 ERA. Austin Peay's bullpen pulled its weight with a 3.25 ERA in its 8.1 innings of work.
Austin Peay will hand the ball to junior left-hander John Sparks for Tuesday's start against Middle Tennessee. It will be his fourth consecutive midweek start since moving into the midweek role at Middle Tennessee, April 5th. The Govs have not named a probable starter for Wednesday's contest at Evansville.
First Hacks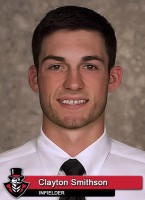 The Govs are ranked among the nation's Top 30 in slugging percentage (6th, .495), batting average (29th, .305), on-base percentage (30th, .395), doubles per game (4th, 2.40), home runs per game (11th, 1.20) and scoring (18th, 7.69 runs per game). Eight different Govs hitters have pieced together a reached-base safely streak of 10 or more games at some point this season.
Senior shortstop Clayton Smithson appears to be slowly returning to his early season ways at the plate, with seven hits, including four doubles, in his last 21 at-bats (.333 batting average). Junior Ridge Smith started at third base and catcher against UT Martin and reached base six times in 13 plate appearances (2 H, 4 BB while striking out just once.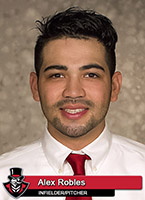 Junior Alex Robles played both corner infield spots against UT Martin and led the Govs in batting average (.556) and on-base percentage (.667) during the series. Junior second baseman Garrett Copeland is battling through a rough stretch at the plate over the last seven games, batting .172 (5-for-29, five walks) with his season average dropping 27 points.
Junior first baseman Dre Gleason was held hitless during the UT Martin series, continuing a 16-game stretch that has seen him bat .170 (8-for-47). Junior right fielder Chase Hamilton posted back-to-back three-hit performances against UT Martin, part of a larger stretch that has seen him bat .365 with 19 RBI in the last 13 games (since April 19th).
Senior center fielder Patrick Massoni has batted .325 (13-for-40) with four walks (.400 OBP) in 11 games since April 19. Junior left fielder Logan Gray has a hit in 13 of the 16 games since his return to the starting lineup, April 10th; he is batting .397 with six home runs and 22 RBI.
Behind the plate, freshman Alex Sala has started 16 of the last 21 games and is seeking to end a four-game hitless streak (8 ABs).
For the first time since 1988 a new face is guiding the Governors with first-year head coach Travis Janssen coming to Austin Peay after four seasons at Division II Northeastern State (Oklahoma). Austin Peay has won 19 of its last 27 after starting the season with a 9-9 mark.
APSU owns a 19-5 record, including an 13-2 mark in OVC play, at Raymond C. Hand Park this season. The Governors have won nine of their last 17 road contests after starting 2016 with a 1-6 road record.
About Middle Tennessee Blue Raiders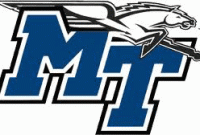 Middle Tennessee (17-31, 4-20 C-USA) has seen its season trend downward since facing Austin Peay, April 5th. The Blue Raiders have lost 16 of 19 since that meeting, including a current six-game losing streak.
Junior infielder Riley Delgado continues to be MT's top threat, batting .403 and, with 28 walks, owns a .495 on-base percentage. He ranks 23rd nationally in batting average and 20th in on-base percentage.
Middle Tennessee's offense has shown signs a resurgence, posting double-digit hits in each of its last four games – a .336 batting average that has pushed its season average to a season-best .264.
About Evansville Purple Aces
Evansville (25-21, 7-8 MVC) brings a four-game losing streak into this week's action, falling last Tuesday to Belmont (11-1) before losing a three-game Missouri Valley series to league-leader Dallas Baptist. The Purple Aces offense has been held to a .228 batting average during the losing streak and has averaged just 4.0 runs per game, both below their season averages (.281, 6.4 rpg).
Junior infielder Trey Hair has paced the UE offense with a .361 batting average. Meanwhile, senior infielder Jonathan Ramon and sophomore outfielder Korbin Williams each have posted 10 home runs.
Broadcast Information
Digital Audio: Audio for all baseball contests available free online at www.LetsGoPeay.com/listen
Live Statistics: www.PeayStats.com
Twitter: @AustinPeayBSB