Phoenix, AZ – CDE Lightband, in Clarksville, Tennessee, received an American Public Power Association Community Service Award at the Association's national conference in Phoenix, Arizona.
This award recognizes "good neighbor" activities that demonstrate the commitment of the utility and its employees to the community.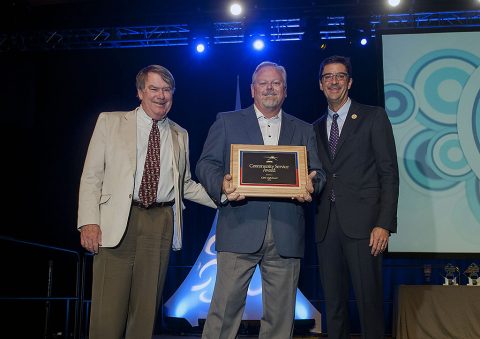 "I am honored to receive the APPA Community Service Award on behalf of our employees," stated Brian Taylor, General Manager of CDE Lightband. "The recognition from this national organization highlights our commitment to our community."
CDE Lightband supports youth education in its community; in the past year, employees created a mobile classroom to teach children about electricity distribution and safety, and worked with local schools to provide access.
Clarksville's rapid growth, military population, state university, nationally recognized public school system, and small town values create a unique opportunity for the utility to educate children and adults about the importance of reliable power and broadband for economic development.
CDE Lightband also supports local charities and non-profits with donations and volunteer work.
About American Public Power Association
The American Public Power Association represents not-for-profit, community-owned electric utilities that power homes, businesses and streets in nearly 2,000 towns and cities, serving 48 million Americans. With no divided loyalties, these utilities are focused on a single mission — providing reliable electricity at a reasonable price, while protecting the environment. These public power utilities generate or buy electricity from diverse sources.
About CDE Lightband
CDE Lightband is a municipally-owned public power and broadband service provider serving 67,000 electric and 19,000 broadband customers within the city limits of Clarksville, TN.