Clarksville, TN – This past weekend, October 8th and 9th, hundreds of people descended on Port Royal State Park to attend the 19th Annual Intertribal Powwow and 10th Annual Trail of Tears Memorial Walk.
The event kicked off with the Trail of Tears Memorial Walk which symbolizes the return of Native Americans via the trail that took them to the Oklahoma Territories in the 1830s. During that time around 125,000 Native Americans were resettled into Indian territory which is around modern-day Oklahoma.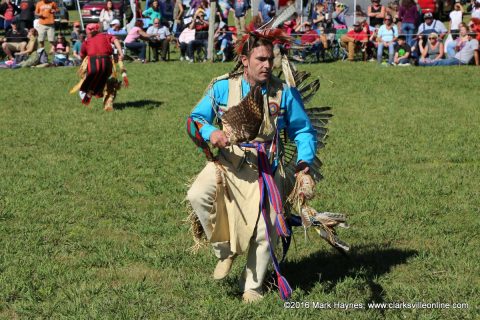 Following the walk is the Grand Entry which opened at 12:00pm and begins the powwow. Visitors watched dancing, saw demonstrations, heard storytelling and observed special exhibitions. For the kids, there was children's storytime, children's dances and the candy dance.
Some of the dances were women's traditional, men's traditional, jingle dress, and fancy shawl.
"The powwow is a coming together for us to share traditions and our customs with the public," stated David McDaris. "It means a lot to be out, it spiritual. I'm here dancing for my relatives, my ancestors and myself."
"I'm here to dance for my ancestors and for my father. He just pasted in August," said Debbie "Winddancer" McDaris.
Educating those in attendance about Native American culture and traditions was a focus of the event.
Native American vendors were on hand offering authentic handmade jewelry, arts & crafts, blankets and clothing. Other vendors had food and beverages for sale.
"This is my first time coming to the powwow and I think it's just awesome. I love watching the different dances and learning about the Native American culture," stated Wendy Jackson. "My kids are really enjoying it as well. I think the candy dance was their favorite."
This year the Head Man was Jake Vance and the Head Lady was Krista Koontz. The Master of Ceremonies was Faron Weeks. Bob "Two Bulls" Tully served as Arena Director. The Head Veterans were Clyde Maize and Mary Sunflower Nolen. Hermione Wilson was the Princess. The Host Drum will be the White Horse Singers from Alabama. Guest Drum will be Southern Echo from Crossville, TN.
The Powwow is held each year on the second weekend of October. If you missed it this year, make sure to pencil it in your calendar to attend next year.
Photo Gallery