Clarksville, TN – The Montgomery County Sheriff's Office is seeking the public's assistance in locating two suspects involved in a kidnapping that occurred in the 2400 block of Ramblewood Drive.
The female victim states on the night of January 4th, 2017, and unknown black male held her at gunpoint while her boyfriend, Anthony Keith Atkins, 28, bound her hands with a cord. The two men forced her into a car at gunpoint and drove to a residence near Hadley Drive, where Atkins dropped off the black male suspect.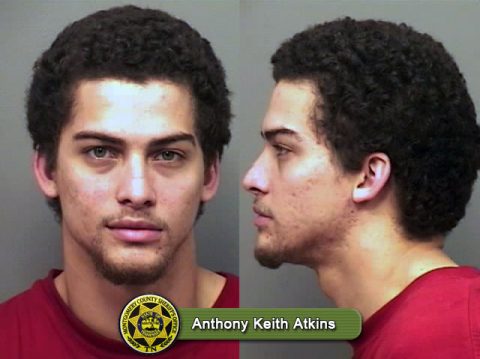 According to the victim Atkins then drove to a service road near Ringgold Creek where he instructed her to get out of the car.
After she exited the vehicle, he fired one shot into the ground near her feet. Afterwards he placed the gun muzzle to her face causing a burn mark on her right cheek.
The female victim states Atkins forced her back into the vehicle and drove around holding her at gun point stating he was going to torture her before killing her. When they returned to her residence the female victim was able to escape and get help.
Three arrest warrants have been issued for Atkins for especially aggravated kidnapping, aggravated assault domestic, and possession of a firearm during a felony. He is 6 feet tall, 170 pounds, with brown hair and hazel eyes.
The unknown accomplice is described as black male, with a goatee and jaw bone beard, wearing a red hoodie.
Both men were last seen driving a small silver Honda with a missing front hub cap.
Anyone with information is asked to call Investigator William Wall at 931.648.0611 ext. 13415. You can also call Crime Stoppers at 931.645.TIPS (8477) or visit www.P3tips.com/591
Crime Stoppers offers up to a $1000.00 for information leading to the arrest and conviction of persons involved in a crime. All callers remain anonymous.