Tennessee (8-6, 1-1 SEC) at #24 Florida (11-3, 2-0 SEC)
Saturday, January 7th, 2017 | 4:20pm CT
Gainesville, FL | Exactech Arena at Stephen C. O'Connell Center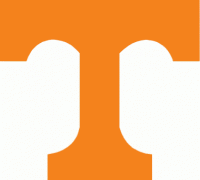 Knoxville, TN – Tennessee heads back out on the road this weekend, traveling to face No. 24 Florida on Saturday at 4:15pm CT on ESPN2.
In their most recent action, the Vols (8-6, 1-1 SEC) suffered an 82-78 defeat at the hands of Arkansas on Tuesday night. Robert Hubbs III scored a game-high 21 points and Grant Williams chipped in with his first career double-double (15 points, 11 rebounds), but it wasn't enough to overcome the Razorbacks, who shot nearly 54 percent from the floor during the second half at Thompson-Boling Arena.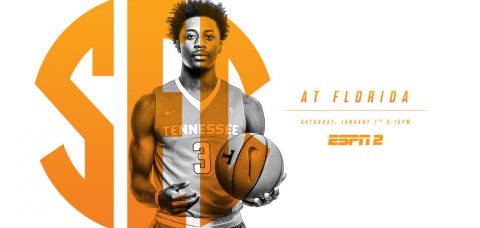 At 15.2 ppg, Hubbs continues to pace the Vols in the scoring column. The senior has been efficient from the floor this season, shooting at a 52.5 percent clip — the fifth-best field goal percentage in the SEC.
Williams, a true freshman, is also averaging double figures at 10.8 ppg and remains UT's top producer on the glass, grabbing a team-high 5.9 rpg.
Rounding out UT's double-digit scorers is guard Detrick Mostella. The junior scored 16 points against Arkansas on Tuesday — his fifth straight game with 10-plus points off the bench — to push his season average to 10.6 ppg. Mostella has knocked down a team-high 23 3-pointers this season, three of which came on Tuesday night.
Florida (11-3, 2-0 SEC), ranked 24th in both the AP Top 25 and USA Today Coaches Poll, has opened the SEC season with a pair of victories. The Gators began conference play on December 29th with an 81-72 win at Arkansas and followed that effort with a 70-63 home victory over Ole Miss on Tuesday night.
The Series
Overall: UT leads, 73-56
In Knoxville: UT leads, 45-16
In Gainesville: UF leads, 34-25
Neutral Sites: Series tied, 4-4
Current Streak: Tennessee has won one
Last Meeting: Tennessee won, 83-69, in Knoxville, 1/6/2016
Rick Barnes vs. Florida: 1-0
Rick Barnes vs. Mike White: Barnes leads, 1-0
A Win Would
Mark the ninth time an unranked Tennessee team has beaten a Florida squad ranked in the AP top 25. The last such win was a 64-58 triumph over the eighth-ranked Gators on February 26th, 2013, in Knoxville.
Stand as Rick Barnes' 96th career head coaching victory over an AP top-25 opponent.
Give the Vols their first win over a ranked opponent this season.
About the Florida Gators
Ranked 24th in both the AP and coaches poll, Florida owns a 11-3 (2-0 SEC) record under the direction of second-year head coach Mike White.
The Gators have wins over Miami (Fla.), Arkansas and Ole Miss, with their losses coming against Gonzaga (November 25th, 77-72), Duke (December 6th, 84-74) and Florida State (December 11th, 83-78).
Florida is a perfect 3-0 at home. The Gators played most of their non-conference "would-be home games" throughout the state of Florida–in cities such as Jacksonville, Lakeland, Tampa and Sunrise–while renovations were being completed at the O'Dome.
Preseason All-SEC guard KeVaughn Allen, who was recruited by a previous Tennessee coaching staff, leads the Gators in scoring with 14.1 ppg.
Senior guard Kasey Hill recently became the 10th Gator in history to reach 400 career assists, and he averages a team-best 4.8 apg.
Junior center John Egbunu (8.5 ppg, 7.8 rpg, 2.1 bpg) was a preseason second-team All-SEC selection by the coaches.
Graduate transfer guard Canyon Barry (11.6 ppg) averaged 12.8 ppg in 70 career appearances with the College of Charleston before enrolling at UF.
Canyon Berry is the youngest son of NBA Hall of Famer Rick Barry, and Canyon is the fifth Barry son to play Division I basketball. Like his father once did, Canyon shoots underhanded free throws.
Memorable VOL Performances against Florida
The legendary Bernard King recorded the third-best scoring performance in school history with a 43-point, 20-rebound effort as the Vols topped the Gators 93-84 on January 17th, 1976, in Stokely Athletics Center.
During the 1983-84 season, Willie Burton averaged 16.7 points, 9.3 rebounds, 2.0 assists and shot .500 (17-of-34) from the floor against the Gators. UT was 3-0 vs. Florida that season.
Dane Bradshaw's breakaway layup with 20.1 seconds to play proved to be the winning basket as the Vols upset second-ranked Florida 80-76 in Knoxville on January 21st, 2006.
The Vols upset fifth-ranked Florida 86-76 on Senior Day in Knoxville behind Chris Lofton's 21 points on February 27th, 2007. ESPN College GameDay broadcast live from Rocky Top, Peyton Manning addressed the Vols in the locker room before the game, and Pat Summitt donned cheerleader garb and led the sold-out crowd in a rendition of Rocky Top during a media timeout.
Last Meeting With Florida
A complete effort on both ends of the court and 26 points from senior guard Kevin Punter Jr. propelled Tennessee to an 83-69 victory over the Gators on January 6th, 2016, at Thompson-Boling Arena.
Admiral Schofield followed up a career-high 22 points in the Vols' SEC opener with 17 against Florida. Robert Hubbs III added 12 points, and Detrick Mostella scored 10 to give UT four players in double figures.
UT stormed out to a commanding 53-31 at halftime and led by as many as 30 in the second half.
Punter was a big reason for the first-half success, scoring 18 of his 26 in the opening half. The senior was 7-of-8 from the field in the first half, 3-of-3 from beyond the 3-point arc. Schofield had 15 of his 17 in the first half on 7-of-11 shooting.
Despite a significant size disadvantage, the Vols won the rebounding battle, 49-40, and outscored the Gators in the paint, 32-24.
KeVaughn Allen led Florida with 18 points, Devin Robinson had 13, Dorian Finney-Smith scored 12 and Justin Leon added 11.
Tennessee played in "Smokey Grey" uniforms for just the second time in program history and the first time ever at home.
The win halted Florida's four-game win streak in the series.
A Streaky Series of Late
The Tennessee-Florida rivalry has been a series of streaks over the past several years.
| Dates | Streak |
| --- | --- |
| 2/27/07 – 1/31/10 | Tennessee won six straight |
| 2/23/10 – 3/11/11 | Florida won four straight |
| 1/7/12 – 2/26/13 | Tennessee won three straight |
| 1/25/14 – 2/28/15 | Florida won four straight |
| 1/6/16-present | Tennessee won last year's meeting |
Lanier Has Gator Connections
Tennessee associate head coach Rob Lanier was an assistant coach under Billy Donovan at Florida from 2007-11.
Lanier helped the Gators advance to postseason play every year while posting a 99-44 (.692) cumulative record.
In 2010-11, Florida won the SEC regular-season championship (13-3 record) and advanced all the way to the NCAA Elite Eight.
Notable Gators recruited and/or coached by Lanier include Marreese Speights, Chandler Parsons, Vernon Macklin and Bradley Beal.
Turner Prepped At IMG in Florida
Tennessee redshirt freshman Lamonté Turner graduated from IMG Academy in Bradenton, Florida.
Turner signed with UT out of IMG, which he attended in 2014-15.
6-5 Williams Among SEC's Top Shot-Blockers
Standing just 6-5, Tennessee true freshman Grant Williams shares the SEC lead in blocked shots with an average of 4.0 bpg during league play.
Williams' 2.1 bpg overall this season ranks fifth among SEC players and 42nd in Division I.
The Charlotte, North Carolina, native tied UT's single-game record with six blocks at Texas A&M on December 29th, and he has recorded at least three blocks in six different games so far this season.
Bone Working His Way Back
Freshman point guard Jordan Bone returned to action December 29th at Texas A&M after missing nine straight games with a stress fracture in his left foot.
Prior to his injury–suffered during UT's first practice at the Maui Invitational–Bone appeared in the Vols' first three games, starting the first two.
Bone recorded one assist in eight minutes off the bench at Texas A&M. Against Arkansas on January 3rd, he played 20 minutes and totaled six points and three assists.
Bone's assist/turnover ratio stands at a solid 2.8.
When Bone was injured, point guard minutes were split between sophomore Shembari Phillips and freshmen Lamonte Turner and Kwe Parker.
Mostella Prefers Bench Role
Junior wing Detrick Mostella, the Dec. 26 SEC Player of the Week, is one of only three upperclassmen on this year's Tennessee roster, but he prefers to make use of his experience while coming off the bench rather than as a member of UT's starting lineup.
Mostella is UT's third-leading scorer at 10.6 ppg, and he has come off the bench to score in double figures eight times this season, including each of UT's last five games.
The Decatur, Alabama, native scored a career-high 25 points to carry the Vols to victory at East Tennessee State December 22nd, including a stretch of 13 straight points during a 2:33 span at the end of the first half.
Over the last three games, Mostella is averaging 18.0 points and 5.0 rebounds while shooting .439 from the field, .391 from 3-point range and .818 from the free-throw line (9-11).
Hubbs' Efficiency On Display
Through 14 games, senior Robert Hubbs III ranks fifth in the SEC in field-goal percentage, shooting .525 (84-of-160) for the season.
Aiding Hubbs' cause on the scoring front has been his outstanding free-throw percentage. Hubbs ranks fifth in the SEC at the foul line (.878) and has missed just six freebies (43-of-49) this season.
Up Next for UT Vols
The Vols return to Thompson-Boling Arena on Wednesday, playing host to South Carolina for a 5:30pm CT tip on SEC Network.