Written by Curtis Johnson
Tennessee State Representative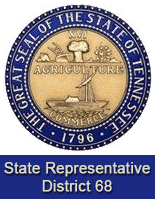 Nashville, TN – Tennessee Governor Bill Haslam praised the passage of the Tennessee Broadband Accessibility Act, the governor's legislation to increase broadband access to Tennessee's unserved citizens.
The House of Representatives passed HB 529/SB 1215 by a vote of 93-4, and it now heads to the governor's desk for signature. The Senate passed the legislation 31-0 on April 3rd. Tennessee currently ranks 29th in the U.S. for broadband access, with 34 percent of rural Tennessee residents lacking access at recognized minimum standards.
More than 800,000 Tennesseans don't have access to broadband, and one in three businesses identified it as essential to selecting their location. Spurring deployment in our rural, unserved areas will open them up to economic investment and growth.
This legislation provides a reasonable, responsible path to improve broadband access through investment, deregulation and education."

The Tennessee Broadband Accessibility Act provides $45 million over three years in grants and tax credits for service providers to assist in making broadband available to unserved homes and businesses.
In addition, the plan will permit Tennessee's private, nonprofit electric cooperatives to provide retail broadband service and make grant funding available to the state's local libraries to help residents improve their digital literacy skills and maximize the benefits of broadband.
New Legislation continues Health Benefits for Families of First Responders Killed in Line of Duty
House Republicans advanced legislation this week that continues health coverage to families of first responders killed in the line of duty.
Under House Bill 466, spouses and children of full-time police officers, firefighters, and other first responders who are killed in the line of duty would receive health benefits for a period of two years following the death of their loved one.
Family members of fallen Tennessee Highway Patrol (THP), Tennessee Bureau of Investigation (TBI), and Tennessee Wildlife Resources Agency (TWRA) officers would also be covered under this legislation.
The bill will be heard by the Finance, Ways & Means Subcommittee next week.
Tennessee Reconnect Passes House
Completing the path for all Tennesseans to access higher education, the Tennessee Reconnect Act establishes a last-dollar scholarship for adults to attend a community college tuition-free. House Bill 531, which passed on the House floor on Thursday, April 13th, expands a grant program launched in 2015 that aimed to attract approximately 900,000 Tennesseans who have earned some college credit but no degree.
Adults without a certificate can already attend Tennessee Colleges of Applied Technology (TCATs) tuition-free under the current Reconnect program. This proposal would expand that program's access to community colleges and relieves some of the previous requirements to receive assistance. The Reconnect expansion would be funded out of lottery reserves at no cost to taxpayers.
Tennessee Reconnect is a tremendous investment in the state's economy. It not only gives adults new opportunities for career growth, but also provides employers with the skills and credentials they are seeking from the workforce.
To be eligible for Tennessee Reconnect, a student must be a Tennessee resident for at least one year preceding the date of application and does not already have an associate or bachelor degree.
Other requirements include completion of the Free Application for Federal Student Aid (FAFSA) where the applicant is deemed an independent student; participation in an approved advising program; and enrollment in any of the state's 13 public community college's degree or certificate programs for six semester hours.
In order to maintain the Tennessee Reconnect grant, the student must enroll in classes leading to an associate's degree or certificate continuously and maintain at least a 2.0 GPA. The program will begin with the 2018-19 school year upon approval of the legislation.
Contact Information
Rep. Curtis Johnson
15 Legislative Plaza
Nashville, TN 37243
615.741.4341
For more information about the Tennessee General Assembly, check our website at www.capitol.tn.gov