APSU Sports Information

Clarksville, TN – Another long, athletic wing will don an Austin Peay State University men's basketball uniform this winter as Eric McCollum becomes the fourth Governor added under new head coach Matt Figger.
A 6-8 transfer from Navarro College, McCollum averaged 9.6 points and 9.2 rebounds on 56.4 percent shooting a year ago as the Bulldogs advanced to the NJCAA Region XIV Tournament.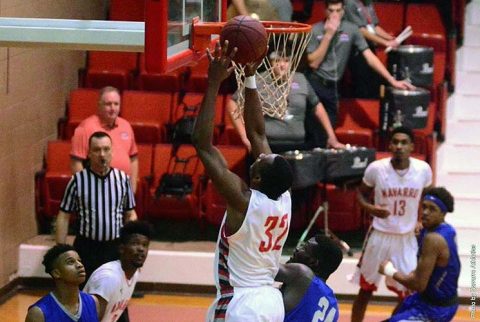 He was Navarro's leading rebounder 12 times, including eight nights with double-figure board totals.
He recorded five double-doubles as a sophomore, including a 21-point, 14-rebound affair in an 86-73 win against Lee, January 11th. In total, his rebounds per game mark ranked him 30th nationally, including 97 offensive boards (39th).
As a freshman, McCollum posted 8.6 points and 6.0 rebounds on 59.0 percent shooting, a mark which ranked 38th nationally in the NJCAA. His lone double-double as a freshman came against Kilgore—the junior college home of former Governor standout Travis Betran—in a February 3rd contest that saw him snare 10 boards and hit 8-for-10 from the floor en route to 17 points.
"Eric is a high-energy rebounder who will bring it every day," Figger said. "He is a high-volume rebounder, can guard multiple positions and I expect him to be a leader in the locker room."
The addition of McCollum brings the total number of new Governors up to six. After Terry Taylor (Bowling Green, Kentucky) and Richard Henderson (St. Louis) signed on last fall, McCollum joins Ed Stephens (South Carolina State), Ivan Cucak (Toronto) and Deyshawn Martin (Chipola College) as spring signees.