Clarksville, TN – On Saturday morning, July 1st, 2017 around 4:33am, Clarksville Police Officers were called to a domestic related situation at an apartment in the 2600 block of Union Hall Road. The female involved in the domestic had already left the residence.
While on scene, the officers were able to determine the other party involved in the domestic was Hasaan Slaughter. Hasaan Slaughter had two active warrants on file–Domestic Assault and a Petition to Revoke.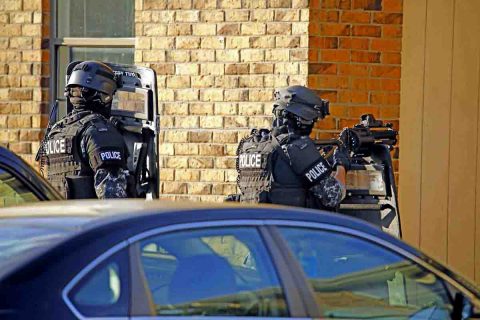 Around 5:01am, officers were outside of the apartment with a friend of Slaughter who tried to convince Slaughter to come out and talk to officers.
Officers, who had received permission to enter the residence, attempted to enter, and a shot was fired from inside by Slaughter.
Officers backed out, evacuated residents from adjacent apartments that could be safely removed, surrounded the building, and called for Crisis Negotiators and the Tactical Team. Around 5:28am, Negotiators were able to establish contact with Slaughter on a phone. He was successfully negotiated out, unharmed, and taken into custody around the 7:30am.
A 9mm handgun was recovered from inside of the residence.
Hasaan Slaughter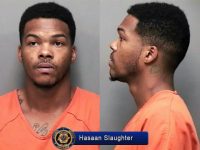 Name: Hasaan Slaughter
Gender: M
Race: B
Address: Union Hall Road, Clarksville, TN
Arresting Officer: Skidmore
Charged With: Domestic Assault, Child Abuse and Neglect, Two Counts of Aggravated Assault, Possession of a Firearm during Commission of a Felony
Booked Into: Montgomery County Jail
Bond: $252,500
Photos