Clarksville, TN – On Thursday, August 24th, 2017, around 11:30pm, a man living on Wilcox Street opened his garage and took his dogs for a walk. When he returned a short time later, he noticed two men were inside his garage rummaging through his truck.
He confronted the men and asked what they were doing, at which time, both of the men took off running. He immediately call 911 and police flooded the area.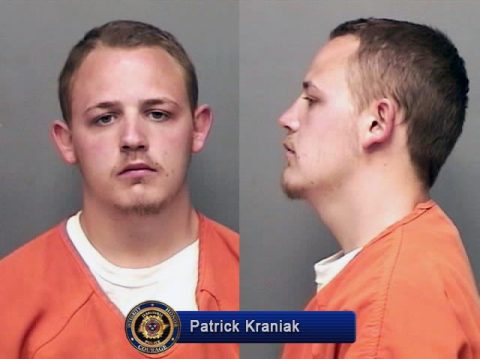 The two suspects were spotted a short distance from where the crime had occurred and when they saw police, immediately split up and took off running.
One of the men, Patrick Richard Kraniak, was caught and still wearing a blue latex glove on his right hand and had another blue latex glove in his pocket. Also, Kraniak, had a metal pipe and marijuana in his possession when he was caught.
Kraniak was already on Probation for Aggravated Burglary.
The investigation is ongoing and Police are working to identify the other suspect. Detective Pew is the lead investigator.
Patrick Kraniak
Name: Patrick Richard Kraniak
Gender: M
Race: W
Address: Tarsus Road, Palmyra, TN
Arresting Officer: Pew
Charged With: Aggravated Burglary,Evading Arrest, Simple Possession/Casual Exchange, Unlawful Drug Paraphernalia
Booked Into: Montgomery County Jail
Bond: $125,000.00