Car Crash Sends Two to Hospital

Clarksville, TN – On Wednesday, September 13th, 2017 around 7:08am, Clarksville Police report a 47 year old man, driving a Dodge pickup, was traveling southbound in the center turn lane of Riverside Drive, crossed left of center and collided with a VW driven by a 16 old female, traveling northbound in the left travel lane of Riverside Drive.
After impact, the VW hit a Ford Escape, driven by an 18 year old female, passing by in the north right travel lane. This occurred in the area of 411 Riverside Drive.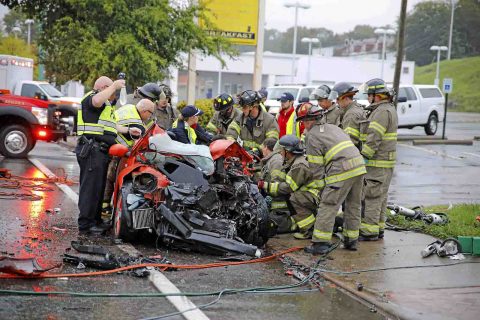 The 47 year old man and the 16 year old female were transported by ambulance to Vanderbilt University Medical Center. They both suffered multiple injuries and are in stable condition.
The 18 year old did not sustain injuries in the crash.
The investigation is ongoing and charges are pending.
Officer Bill Van Beber is the lead investigator.
Photos