Clarksville, TN – The holidays are in full swing with the annual Holiday Open House and Small Business Saturday on November 25th, 2017. The businesses in Historic Downtown Clarksville invite you to stop by during regular business hours and enjoy some refreshments, door prizes and some special discounts.
Take advantage of this special day to enjoy the unhurried pace of shopping, where you will find some of Clarksville's most unique, independently owned shops.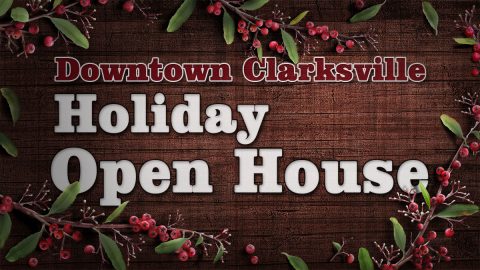 Those businesses include:
Rogate's Boutique
20% OFF all purchases
Roxy Regional Theatre
$25.00 Discount on Season 35 10 packs and see "A Charlie Brown Christmas"
Seasons: The Museum Store
10% OFF the entire store
Couture Crush
25% OFF entire purchase
Mildred & Mables
$10.00 OFF any $50.00 purchase & $20.00 OFF any $100.00 purchase
Downtown Artists Co-op
FREE cookies and spicy apple cider
Journey's Eye Studio
Draw your own discount for any purchase
Horsefeathers Pottery & Art Studio
Paint three ornaments @ $25.00 and get fourth FREE
25% off Vintage Christmas Trees
Bink's Outfitters
80% off all Remaining Spring & Summer Items
Sacer & Savive
Buy One, Get One 50% OFF
Downtown Commons – Ice Skating
$10.00 Adults/children (including skate rental)
And enjoy these businesses for a bite to eat:
Edward's Steakhouse
The Blackhorse Pub and Brewery
Yada, Yada, Yada Deli
Roux Clarksville
Hot Pita
Saturday November 25th will be your chance to get some great bargains, do some early Christmas shopping, enjoy some refreshments and do your part to 'Shop Local".