APSU Sports Information

Brentwood, TN – A pair of Austin Peay State University men's basketball players took home adidas® Ohio Valley Conference weekly honors, with senior Averyl Ugba earning Newcomer of the Week and freshman Dayton Gumm taking Freshman of the Week honors.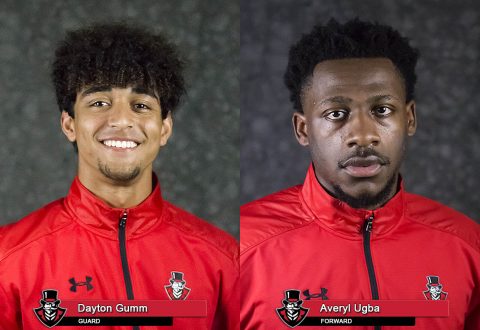 A transfer from Grambling State, Ugba shot 66.7 percent from the floor in wins against Bethel and Miami University last week, serving as the only Governor to score in double figures in both contests.
Against Bethel in the first-ever college basketball game at Fort Campbell, his game-high 18 points made him the first Austin Peay upperclassman to lead the Govs in scoring this season.
He also patrolled the interior with acumen, blocking two shots as the Govs limited the Wildcats to 37.1 percent shooting, worst by an Austin Peay opponent since January 7th, 2016 (Jacksonville State).
In Sunday's win against Miami, Ugba was one of five Govs in double figures, scoring 13 points—including eight in the second half as Austin Peay's lead swelled to nearly 40 points. For the week, the Silver Spring, Maryland native averaged 15.5 points, 6.0 rebounds and 1.5 blocks.
Gumm made his first Austin Peay start a memorable one on Sunday. He finished with a game-high 23 points on 9-of-13 shooting against Miami, becoming the first freshman since Austin Peay began electronic record-keeping with two 20-point performances in his first six collegiate contests.
For the week, Gumm averaged 14.0 ppg, 2.5 rpg, 3.0 apg and 3.0 spg, hitting 61.1 percent (11-of-18) from the floor. He had a career-high four steals in the win against Bethel, Wednesday.
With Gumm and Ugba earning weekly honors, already a trio of Govs have been recognized by the conference in 2017-18; they join Terry Taylor (Freshman of the Week, November 20th) as honorees at the OVC level.
It's the first time two Governors have won a weekly award from the conference in the same week since the final week of the 2015-16 campaign, and the first time two different Governor freshmen have been honored in the same season since Drake Reed (four times), Landon Shipley (two times) and Kyle Duncan (one time) won seven of the 13 Freshman of the Week honors awarded during the 2005-06 season.
Austin Peay continues its non-conference portion of the 2017-18 season with a midweek trip to Stillwater, Oklahoma to face Oklahoma State, 7:00pm, Wednesday.