APSU Sports Information

Clarksville, TN – Austin Peay State University women's basketball takes their winning streak on the road 6:00pm, Tuesday at Northern Kentucky.
The Govs make their first trip to Northern Kentucky to play the Norse for the first time in program history. Austin Peay is protecting a six-game winning streak for the first time since 2005-06 season.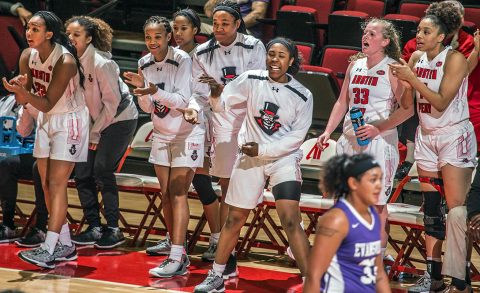 Brianah Ferby has led the Governors in scoring for the past two games, scoring 17 points and racking up four rebounds against Evansville.
Ferby played a season high 29 minutes off the bench, as Austin Peay recorded 34 bench points from five different Governors.
The front-court duo of Brianne Alexander and Kelen Kenol continued to wreak havoc on opposing defenders as Alexander scored 10 points and pulled down four rebounds against Evansville. Kenol led the Governors in rebounds with 10 adding six points and a career high four blocks.
Bri Williams, Keisha Gregory and Falon Baker ran the Governors back court with Gregory and Baker each scoring 11 points with Gregory pulling down nine rebounds and Baker dishing out four assists. Williams recorded her second career double-double scoring 10 points and tallying 10 assists.
The Governors defensive pressure proved the difference maker as the Govs held the Purple Aces to 11 points in the second and third quarters, scoring 38 points in the process.
The Govs are facing a young Norse squad with seven freshmen on the roster. Northern Kentucky is shooting 41.0 percent from the field, averaging 64.5 points per game. The Norse have struggled on the road this season, but have split their two home games, including an offensive blowout against Oakland City University where they scored 103 points.
APSU Storylines
Bench Benefits. Brianah Ferby has led the Govs in scoring for the past two games scoring 17 points in each contest.
Double-Digits. Brianne Alexander and Keisha Gregory have scored in double digits for the fifth straight game.
Balanced Offense: Five Governors scored in double figures against Evansville: Brianah Ferby (17), Falon Baker (11), Keisha Gregory (11), Brianne Alexander (10) and Bri Williams (10).
Winning Streak: The Govs are on a six-game winning streak. A seventh win would be Austin Peay's first seven-game winning streak since 2003-04 season.
Assists & Turnovers: The Govs have had 19 assists in each of the last two games, while averaging 10.0 turnovers.
Former Govs: NKU head coach Camryn Whitaker started her coaching career at Austin Peay in 2006, where she spent two seasons.
Follow APSU Govs Online

Be sure to follow all the Austin Peay women's basketball action at LetsGoPeay.com and the official Facebook page of Austin Peay Athletics. In addition, live play-by-play coverage can be found on Twitter (@AustinPeayWBB) and live video can be found on ESPN3.