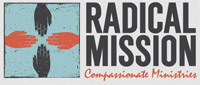 Clarksville, TN – Radical Mission hosted its 10th Annual Warm Souls at APSU's Morgan Center Saturday, with more than 1,000 people showing up for a hot Christmas meal, and much more.
Clarksville Mayor Kim McMillan, a longtime supporter of the program, stood at the doorway and greeted guests as they entered the 2nd floor ballroom.
"I'm here because we want to make sure that everyone knows the city of Clarksville is fully supportive of this project," McMillan said. "We were a little concerned that we had to change locations this year, but APSU has been so supportive. Today's event has turned out fabulous, and the crowds have been tremendous. We have served so many deserving families with a hot lunch."
"And, throughout the facility, Radical Mission is giving free haircuts, nail polish, gifts and clothes. This is a wonderful opportunity to show the people in this community what Christmas is all about."
John Vaughn is Executive Director of Radical Mission, he talked about the events of the day, and his organization's efforts throughout the year.
"We are a local non-profit," Vaughn said. "We run a food pantry and a clothing closet the other 364 days a year, which allows us to feed and serve about 800 people a month. Ten years ago, we decided that we wanted to provide a Christmas for those in our community who might not be able to provide one for themselves."
Vaughn said that within the first couple of hours more than 825 people had come through the doors.
"We do a free store that provides clothing and household gifts," Vaughn said. "Today, we'll give out free gifts to everyone. Kids, 12 and under, get a wrapped toy. Everyone, 13 and over, will get a sweatshirt. While they're here, they have access to free family portraits, haircuts, shoes, clothes, and a home-cooked meal.
"For entertainment throughout the day, we have live music, and some local pastors that have come out to speak to the audience. We are so proud to be celebrating our 10th Annual Warm Souls."
Photo Gallery
Sections
Arts and Leisure
Topics
APSU Morgan Center, Christmas, Clarksville Mayor, Clarksville TN, gifts, Kim McMillan, live music, Radical Mission, Warm Souls